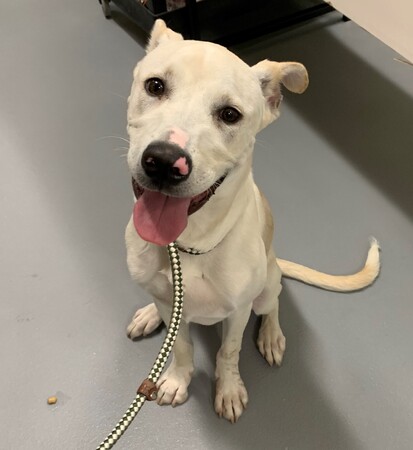 Pet of the Week: Tucker
Tecla Metzel of Kane County Animal Control 7/15/2022 8:00AM
His puppyhood with his forever family didn't last a full year.
For whatever reason, he became a stray during that 12-month period, winding up in a forest preserve, probably scared and alone. When he was picked up by the police, he was underweight for his body type, but since he's been at KCAC he's put on a few pounds.
He's definitely a Labrador retriever-mix because his energy level is through the roof and beyond. His name is Tucker and he's a 1-year-old neutered tan and yellow retriever and possible pit bull-mix.
Gentle in nature, he likes to play with squeaky toys. He lets you take them from him with the promise you're going to throw it. If you ask him to drop it, he does, but he enjoys playing 'keep away'​​ with anyone who has the time. Pet him all over and his tail won't stop wiggling.
Put a leash on him and he'll perform the 'I haven't been leash trained yet' dance. Jumps, twirls and pulling will ensue until his handler can get him under control. His new owner will definitely have to enroll him in a puppy class so he can learn a few manners. When he first meets another dog, he goes immediately into a play bow. He gets so excited he does a few jumps and spins before he re-enters the play bow. His tail wiggles and wags as he waits for the other dog to give him the sign they want to play.

Tucker had his puppyhood interrupted when he became a stray, but his always happy disposition kept him from losing hope. With his personality and ability to learn new things, his future is looking good. All he needs is a fur-ever home with people who are willing to spend time with him to show him how to be the best dog he can possibly be.
How to Adopt:  For more information regarding Kane County Animal Control's adoptable animals and for an adoption application, please go to
www.kanecountypets.org​
.
All Kane County Animal Control adoptable cats and dogs are spayed/neutered, microchipped and up-to-date on all vaccines including rabies. They are tested for feline leukemia/FIV and heartworm.

The adoption fee for dogs is $200 and $100 for cats. Adoption of two dogs is $300 and $150 for two cats.
"Animals are reliable, many full of love, true in their affections, predictable in their actions, grateful and loyal. Difficult standards for people to live up to." – Alfred A. Montapert, American author
Source: KCAC's Adorable, Adoptable Pet of the Week is written by Tecla Metzel of Kane County Animal Control.