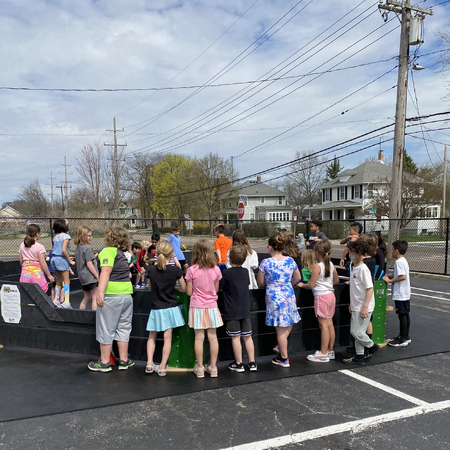 Kane County Fit for Kids Funds Projects Including a Gaga Pit
Kane County Connects Staff 4/17/2023 12:00PM
​
Making Kane County Fit for Kids (Fit for Kids) is a nonprofit organization dedicated to promoting healthy eating and active living for children in Kane County through community wellness partnerships.  Each year, Fit for Kids provides funding for projects focused on increasing physical activity and healthy eating. 
In 2022, Lincoln Elementary School in St. Charles was one of nine projects to receive a funding award from Fit for Kids. The playground at Lincoln is mostly pavement and Principal Michelle Woodring was looking for opportunities to add new outdoor equipment for her students.  The project they proposed was a Gaga Pit.  

A Gaga Pit is an octagon shaped pit where up to 20 kids can play the game of Gaga which consists of running and jumping to avoid getting tagged below the knees by a small, soft, foam ball.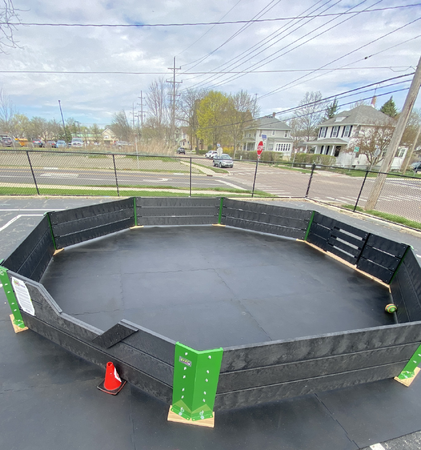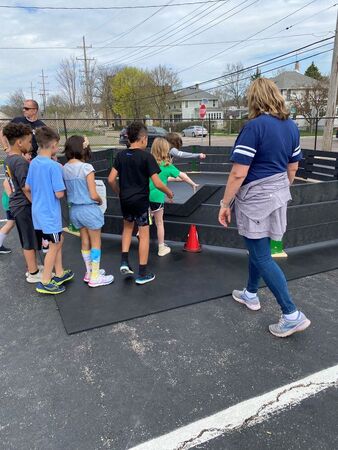 Woodring applied for a Fit for Kids grant and received $6,500 dollars for the project. The Gaga Pit was recently completed and Lincoln students are getting lots of exercise playing Gaga during recess.
"They are moving non-stop, jumping and building up their agility and I think they are really enjoying themselves," said Woodring.  "It's really exciting to have this here at Lincoln."

Last fall, Fit for Kids awarded a total of $31,928. The funding comes from donations
"The Fit for Kids Board of Directors recognizes that small seed money from Fit for Kids can help organizations bring their projects from a vision to reality," said Board of Directors Chair, Jackie Forbes.  "Our awards for this most recent round of funding paid for bike racks, a gaga ball pit, heart rate monitors, and other initiatives that make a big difference for children in Kane County. Our application process is intentionally simple so organizations do not need grant writing expertise or complicated financial information to apply."
Applications are available in the spring and fall depending on funding availability.  To learn more about Making Kane County Fit for Kids go to https://www.makingkanefitforkids.org/.  Here is a list of recent recipients:
Algonquin Lakes Elementary School, Algonquin
$6,866 for Algonquin Lakes Fit For 20 Program.

​Cambridge Lakes Charter School, Pingree Grove

$2,107.85 for Heart Rate Monitors for Physical Education.
Channing Elementary School, Elgin
$1,145.71 for Outdoor Sensory Pathway & Playground Games.
Dundee Highlands Elementary School, Elgin
$1,613.95 for Fit Kids: Mind & Body Program.
Elgin Community Bikes, Elgin
$8,956 for Capacity Building for Elgin Community Bikes Bicycle Recycling & Repair.
Hermes Elementary School, Aurora
$583.70 for the Hermes Mileage Club.
Lincoln Elementary School, St. Charles
$6,529.65 for a Gaga Pit for Lincoln Playground.
Nicholson Elementary School, Montgomery
$1,000 For a Bike Rack.
Norton Creek Elementary School, West Chicago
$3,125 for the Eagles Get Up & Soar Program.