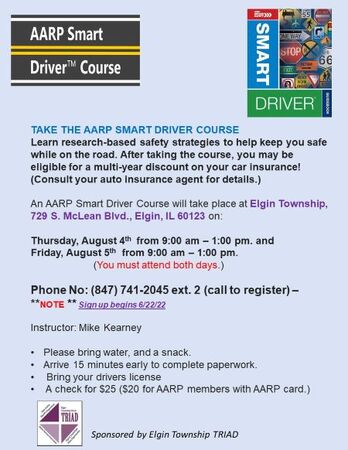 Driving Class for Older Motorists in Elgin Township
Kane County Connects Staff 7/28/2022 7:00AM
AARP is offering, IN PERSON, a 2-day Smart Driver Course.


The course will be held Thursday, August 4 from 9:00 a.m. - 1:00 p.m. and Friday, August 5 from 9:00 a.m. - 1:00 p.m.

YOU MUST ATTEND BOTH DAYS.​

WHERE: Elgin Township Bldg., 729 S. McLean Blvd., Elgin - lower level (there is an elevator).

You MUST REGISTER. Call 847-741-2045

Limit is 20 people. You must bring your Driver's License and a check for $25 ($20 for AARP members with proof of AARP card). You may bring a money order made payable to AARP.

A wait list will be taken in case another date/time needs to be scheduled.