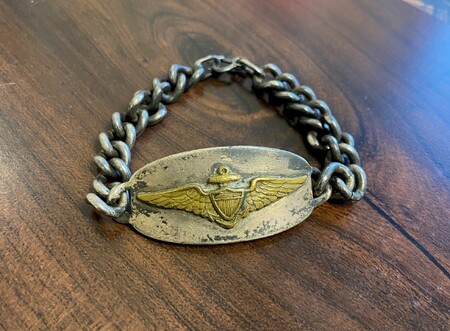 Lost U.S. Marine Bracelet Returned to Family in Alabama
Kane County Connects Staff 8/31/2023 3:00PM
​
Retired Major M.G. Moncrief Jr. of Alabama, who served in both WWII and the Korean War, was awarded the Distinguished Flying Cross for his heroic and extraordinary achievements while participating in aerial flight.

​He died in 2003 at the age of 80. Years later, a person unrelated to Moncrief brought his U.S. Marine Corps identification bracelet to the Kane County Veterans Assistance Commission in hopes they could reunite it with its owner.  It's believed the item was found at a flea market or secondhand store.
With the help of social media, Kane County recently contacted Moncrief's family members and his Marine Corps bracelet was returned to Alabama where he is buried.

The Moncrief family says they were unaware of the lost bracelet and tried to detail what they knew about his service in WWII and the Korean War.  In both wars, records indicate he served heroically. 
The family expressed gratitude to have the bracelet and thanked Kane County for taking the time to find them and return it.

This story is a testament to the enduring legacy of all veterans and the importance of honoring their service.