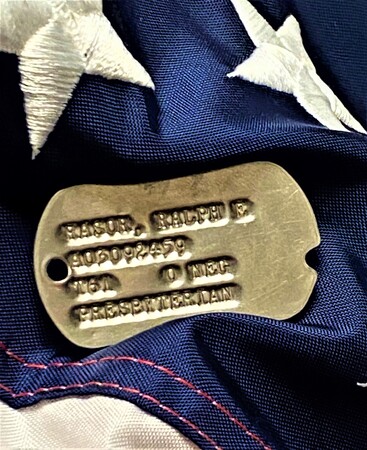 Kane County Returns Lost Military ID Tag
Kane County Connects Staff 5/25/2023 4:00AM
From time to time individuals will appear at the offices of the Kane County Veterans Assistance Commission (VAC) with military items they have found.   The VAC diligently tries to locate the Veteran or family the item should be returned to, but sometimes the effort leads nowhere. 
During an unrelated conversation between VAC Superintendent Jake Zimmerman and Kane County Public Information Officer Julie Mann, the VAC revisited its folder of unclaimed possession and Mann took another look at the names on the two military dog tags and Aircrew bracelet it had in safe keeping.  
Attempts to locate the owner of one of the dog tags turned up nothing.  There are leads on the location of the family of the serviceman who owned the Aircrew bracelet. However, a recent search on social media found the family of the second dog tag living in Ohio.   
Kane County's Public Information Office reached out to the Veteran's daughter, who was surprised to hear from Kane County.  She explained that her father was a flight surgeon in the U.S. Air Force for several years but didn't recall him mentioning spending time in Illinois.   She said he went on to become a general practitioner in the town in northwestern Ohio where he and his wife raised their children.  She said she was grateful an effort was made to find her father and his family.
The tag was returned to the Veteran's family in early May.
Included in this article are a picture of the two remaining military items that have yet to be returned to their rightful owners. ​