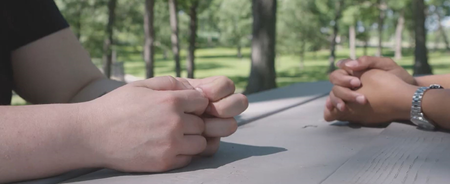 New Name, Same Critical Mission
Kane County Connects Staff 11/28/2022 4:00PM
Kane County's Pre-Arrest Diversion is a division of the Kane County State's Attorney's office and has been working since December, 2021 to help connect people who have had contact with the criminal legal system as a result of substance use disorder, mental illness, and/or a lack of resources with treatment and other support.
Today, however, the outreach encompasses more than arrest diversions, with added pathways through law enforcement and community partners.
Recently, Pre-Arrest Diversion changed its name to Collaborative Diversion to better express its mission and highlight its numerous partnerships with community organizations that play a critical role in providing treatment and support to individuals in the program.

"Pre-Arrest Diversion had to negative of a connotation for both law enforcement and for the people it was being offered to. It also did not cover the full scope of what we provide," said Martha Paschke, Kane County Collaborative Diversion Coordinator. "A majority of the individuals we are serving have actually been referred to us through other pathways – Social Contact Referrals or Community Referrals – and not as actual pre-arrest diversions."
Collaborative Diversion has expanded their referrals to include individuals who enter treatment through 'A Way Out,' a program focused on keeping people suffering from substance abuse problems out of the criminal justice system. Individuals who want help can call or walk into a participating police station, including the Kane County Sheriff's Office, and ask for help. Along with the longstanding pathways for referrals, Collaborative Diversion is also accepting referrals, as appropriate, through the new Kane County Mobile Crisis Response Teams, dispatched through 988 calls.

All individuals referred to Collaborative Diversion case management need to meet eligibility requirements: 18 years-old or older, law enforcement engagement/history of or first time, and struggling with substance use, mental illness, and/or houselessness /lack of resources. In addition, they must want assistance, as this is a voluntary initiative.
"There are so many people who get caught up in the system due to trauma they've experienced or mistakes they've made," said Paschke. "They deserve to be given a little support and a chance to forge a different path in life. That's what we are here for."
Collaborative Diversion continues to roll out with additional law enforcement agencies throughout Kane County and looks forward to making case management services available to all eligible individuals in the county.
For more information about Kane County's Collaborative Diversion, go to www.saopublic.co.kane.il.us/LEAD