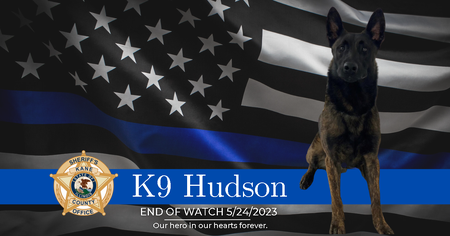 Public Funeral Service Set for Kane County Sheriff K-9
Kane County Sheriff's Media Release 5/30/2023 8:15AM
​
Following his heroic line of duty death on May 24th, 2023 while defending Sheriff's Deputies and the public from an armed carjacker, preparations have been made for a full honor police funeral for Kane County Sheriff's K-9 Hudson. The funeral will occur on Thursday, June 1st, 2023 at Harter Middle School, 1601 Esker Dr, Sugar Grove, IL. Guests should enter through door 16 located on the south side of the school.
The service will begin at 11am opening for a public walkthrough. There will be a police K-9 walkthrough at 11:30 am and a police walkthrough immediately following. The funeral service will begin at the conclusion of the walkthrough. Hudson, a Dutch Shepherd, was born August 21st, 2018 and was sworn into police duty on October 16th, 2020. 
Hudson was utilized for over 100 tracks of criminal offenders and missing persons in his short career. He was also responsible for the apprehension of several violent offenders while protecting not only his handler, but other Deputies and members of the public. As part of his many jobs, Hudson helped locate numerous articles of evidentiary value for ongoing investigations.
Hudson has served the Kane County Sheriff's Office and several federal law enforcement agencies to include the Department of Homeland Security, the Drug Enforcement Agency and the Federal Bureau of Investigation in the detection and seizures of over 100 kilograms of illicit narcotics. Hudson also assisted with the seizures of over $5,000,000 in U.S. currency that was determined to be proceeds from illicit activities.
Perhaps most notably, we are unable to determine how many time Hudson's mere presence prevented violent encounters between criminals and members of law enforcement. He served with honor, pride, and unwavering bravery and he will surely be missed.
Sheriff Ron Hain would like to give a special thank you to the Illinois Concerns of Police Survivors (COPS) for their expert assistance in planning the services​