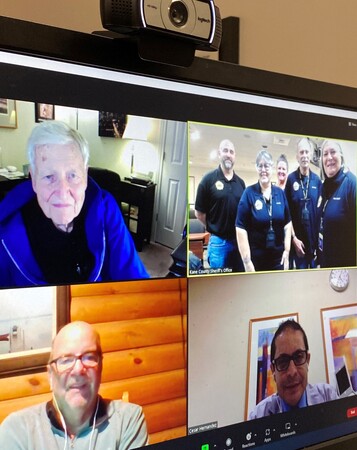 "We're Here for You" Kane County Sheriff Chaplains
Kane County Connects Staff 12/1/2022 6:00AM
Once a month, nine individuals gather at the Kane County Sheriff's Office to discuss ways to support law enforcement. They are members of the Sheriff's Chaplain program. For the past five years, the group's mission has been to provide interfaith counsel and reassurance to Sheriff office employees and their families during times of need. Their mantra, "we're here for you."
The team of chaplains are on call 24 hours, seven days a week to assist in making death notifications, respond to a death investigation, respond during and after major incidents or disasters and provide personal support to deputies and/or victims or citizens.

"It used to take five years for an individual working in law enforcement to develop signs of Post-Traumatic Stress Disorder (PTSD)," according to Rev. Denise Tracy, a member of the Kane County Sheriff's Chaplain Unit. "Now, because of job stress, most law enforcement officers develop PTSD in just two years. Police chaplains exist to support law enforcement officers and decrease the impact of such stress. Chaplains are out in the field beside the deputies to listen and to stand beside them in their worst moments."
During their November meeting, three of the chaplains shared issues discussed during recent training where they learned diversity sensitivity and how to ensure they are respectful to all faith groups.
To build relationships and trust, the chaplains routinely go on 'ride-alongs' with the deputies to learn more about them individually or just listen to whatever they want to talk about.
The group liaison to the Kane County Sheriff's Office is Sgt. Terry Hoffman who guides the chaplains through the day to day responsibilities of police work. He says the importance of this group is not always obvious. "The chaplains can help open the door to resources that someone didn't realize they needed," said Sgt. Hoffman. "Often, law enforcement officers don't take time to reflect on what's happening at the job and back at home."
The COVID-19 pandemic only amplified the workforce stress on law enforcement, prompting more agencies to offer workers, especially those on the front lines of emergencies, multiple avenues to ask for help with mental health issues. The Sheriff's Office Chaplain program is one of those critical avenues within Kane County.

Members of the Kane County Sheriff's Office Chaplains include Rev. Denise Tracy, Noreen Aguirre, Carl Ball, Bill Decker, Anita Lewis, Maura Wood Maschinski, Brad Osborn, Rev. Cesar Hernandez and Steven Schulze.