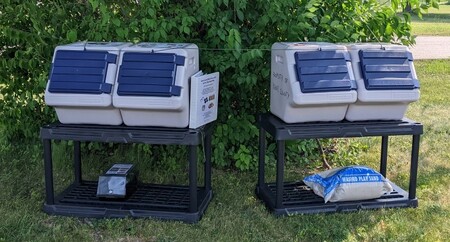 Kane County Recycles New Bits and Pieces Kiosk
By Kane County Recycling Coordinator, Clair Ryan 6/21/2023 11:00AM
​

Kane County is pleased to announce the availability of a four-bin self-service kiosk at the Fabyan Parkway Recycling Center for small hard-to-recycle items. These items are being collected to benefit existing local organizations or programs, including local Lions Clubs, art and school material re-use cooperatives that work directly with schools and families, and a cooperative of local breweries and beverage distributors that collect and re-use snap-on can caddies. There is more detail about where the materials will be going in our kiosk guide.
The items accepted at the Kiosk are:
Bin 1 - ink jet cartridges (all brands but no toner, please use a baggie for any leaking cartridges);
Bin 2 - dry art and school supplies. We can't take anything liquid, gel or clay-like due to the risk of spills and the risk the material would be damaged in a non-temperature controlled setting. Additionally, we ask that all loose, small items be bagged. We have bags at the kiosk for use, and full list of accepted and non-accepted material here;    
Bin 3 - eyeglasses and hearing aids (please remove hearing aid batteries and no glasses cases please);
Bin 4 - can caddy holders and multi-beverage ring holders.
Being self-service, kiosk items may be dropped off outside of regular site hours. See the full guide linked above for access info.​   Regular site materials (electronics, clothing, aerosols, books, paper) must wait for regular business hours which are Monday through Friday, 8am - 4pm .​  ​

Kane County Recycles is open to feedback and suggestions on the kiosk. Do you know of organizations we should work with or have ideas for materials we should collect? Feel free to call Recycling Coordinator Clair Ryan at (630) 208-3841 or email recycle@countyofkane.org