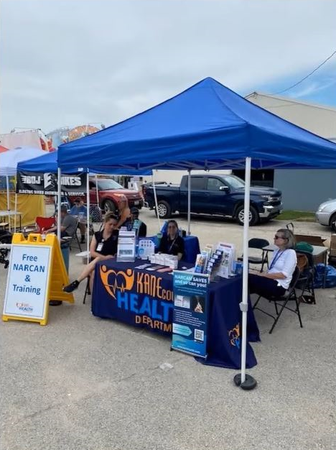 Kane County Health Department Gives Away over a 1000 Doses of Naloxone​​
Kane County Connects Staff 7/24/2023 7:00AM
Kane County's Health Department is distributing free  Naloxone​​ to the public as part of an ongoing community outreach initiative.
​Volunteers with the Kane County Medical Reserve Corps,  set up a booth at the Kane County Fair in St. Charles in July  where they gave out 528 boxes - or 1,056 doses - of Naloxone to anyone who wanted it.   The free medication is provided in nasal spray form.   Volunteers also provided training on how to administer the nasal spray.

Naloxone is a medication approved by the Food and Drug Administration (FDA) designed to rapidly reverse opioid overdose.
Free doses of Naloxone will be distributed by the Kane County Health Department at the Kane County Sheriff's National Night Out event on August 1 and again at the Aurora Farmers Market on August. 17.   

Additionally, the following Opioid Overdose Prevention Program Partners provide Narcan to community members. Contact one of the following to request a Narcan kit at no charge:

​Aurora

African American Men of Unity, (630) 606-1910
Association for Individual Development, (630) 966-4000
Aurora Public Library, (630) 264-4120
Echo Development Center, (630) 859-2248
Mutual Ground, (630) 897-0084
Simplee Destinee Youth Center, (708) 926-4979


Campton Hills

Campton Hills Police Department, (630) 584-4242


Elgin

Ecker Center for Behavioral Health, (847) 695-0484
Mathers Recovery Center, (847) 462-6099


Naperville

Path to Recovery Foundation, (630) 962-9652


St. Charles

Kane County Sheriff's Office (630) 232-6840
Kane County State's Attorney's Office, (224) 833-2557
Lighthouse Recovery, (630) 940-2468
Tri City Health Partnership, (630) 377-9277
Community Organizations
The Kane County Health Department partners with police and fire departments, substance use treatment centers, healthcare providers, schools, and other organizations throughout the county to provide them with Narcan so that they can help reverse an overdose caused by opioids.
To obtain a stock of Narcan to keep on hand or to distribute to those who may be able to help in the case of an opioid overdose, your organization can become an Opioid Overdose Prevention Program Partner. Contact us at PHDopioidinfo@kanecountyil.gov​ for more information.


Opioid Overdose Prevention Partners
The following organizations participate in the program by carrying Narcan/naloxone and getting trained on opioid overdose response.
Kane County Police and Fire Departments
Algonquin PD

Aurora PD

Aurora University Campus PD
Batavia PD
Campton Hills PD
Carpentersville PD
East Dundee PD
Elburn PD
Elgin Community College Campus PD
Elgin PD
Fox River and Countryside FD
Fox Valley Park District PD
Geneva PD
Gilberts PD
Hampshire FD
Hampshire PD
Hoffman Estates PD
Huntley PD
Kane County Forest Preserve PD
Kane County Juvenile Justice Center
Kane County Sheriff's Office
Kaneville Fire Protection District
Maple Park PD
Montgomery PD
North Aurora PD
Pingree Grove PD
Rochelle PD
Sleepy Hollow PD
South Elgin PD
St. Charles PD
Streamwood PD
Sugar Grove PD
Waubonsee Community College Campus PD

Wayne PD

West Dundee PD

Healthcare Providers
Advocate Aurora-Dreyer Clinic

Ascension Illinois

DeKalb County Health Department

Greater Family Health




Lee County  County Health Department




Northwestern Medicine




Ogle County Department




Tri City Health Partnership




VNA

Community Organizations
African American Men of Unity
Association for Individual Development
Children's Home + Aid Families and Children in Treatment
Echo Development Center
Family Counseling Services
Hearts of Hope
Hesed House
Lifespring Ministry
One Collective
Simply Destinee

Substance Use Treatment Centers

Ecker Center
Family Guidance Centers
Gateway Foundation
Greater Family Health
Hearts of Hope & Lutheran Social Services
Latino Treatment Center

Lighthouse Recovery
Lutheran Social Services
Mathers Clinic
Mutual Ground/Breaking Free

Path to Recovery
Recovery Centers of America

Kane County Government

Kane County Coroner

Kane County Court Services
Kane County Pre-Arrest Diversion Program

Kane County State's Attorney's Office


Schools
Mid Valley Special Education Co-op
Mooseheart Child City and School
West Aurora HS​
For more information about the distribution and how you can help someone in need CLICK HERE.​