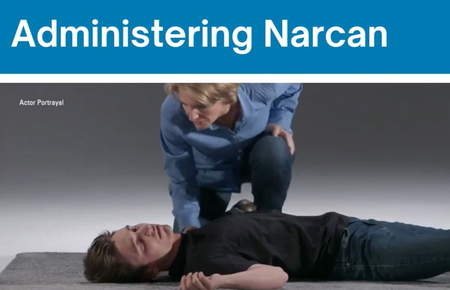 Kane County Health Department Video Details Opioid Overdose and Naloxone
Public Information Office Intern Gabe Kertesz 7/13/2023 10:00AM
​
The Kane County Health Department has published a video on its website providing detailed information about the opioid overdose reversal agent naloxone (commonly known as Narcan), where it can be found, and when it should be used.
Viewers will learn what drugs are classified as opioids, how opioid overdoses happen, and the state of the opioid crisis in Kane County.  It also describes the symptoms of opioid overdose, which include slowed or halted breathing, and unresponsiveness to any stimuli.
​The instructional video also takes the viewer through the process for determining if someone has overdosed on opioids and responding to an overdose, including the use of Narcan (which comes in a spray bottle and is applied nasally).

The Kane County Health department hopes that increased awareness of the opioid crisis and increased availability of naloxone will continue to save lives and slow opioid-related deaths in the County.

CLICK HERE TO WATCH THE VIDEO  

​