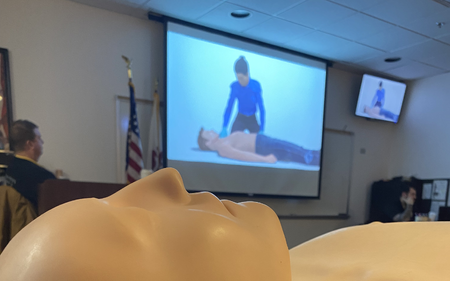 Kane County Enhances Program to Offer More CPR Training to Residents
Kane County Connects Staff 7/27/2023 6:00AM
​
Kane County is pleased to announce the expansion of its popular, life-saving, CPR training program.  Through a merger of the Kane County Sheriff's Office and Kane County Health Department CPR programs, and partnership with the Advocate Sherman Training Center, the County is now able to provide more certified instructors, equipment and training opportunities for the public.
The mission of Kane County's free CPR program is to increase the number of trained community members who can respond to a cardiac emergency.
First-time learners, community organizations and people in need of a refresher course or CPR certification are encouraged to sign up for a free class by using the appropriate QR code below. (click on the picture to enlarge the screen)  Community organizations can request training on behalf of their staff or volunteers. Once the form has been completed, a CPR coordinator will then reach out to schedule the session.
Kane County has trained over 730 individuals in this life-saving skill so far in 2023, including a highly successful campaign during National Heart Month in February.
Training is conducted by American Heart Association certified instructors comprised of Kane County Health Department staff, Kane County Sheriff's Office staff and Medical Reserve Corps.
Members of the public can view upcoming CPR class schedules by following the Kane County Health Department and the Kane County Sheriff's Office on social media.
Join us in this life-saving mission and sign up for the Kane County CPR Program today!​