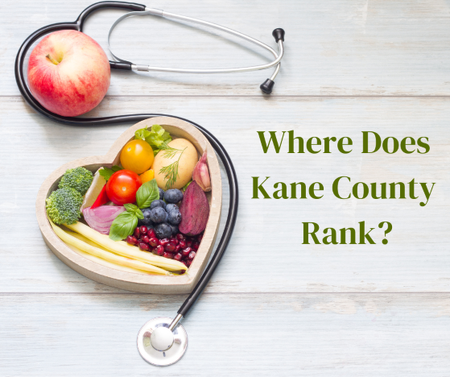 Kane County Top Ten in State for Healthiest Residents
Kane County Connects Staff 4/3/2023 8:00AM
Kane County is one of the state's healthiest counties, according to a new report from the University of Wisconsin Population Health Institute (UWPHI).
The 2023 County Health Rankings and Roadmap ranked Kane County as the 6th healthiest in Illinois, up one ranking from 2022. DuPage County ranked first on the list out of the state's 102 counties.
UWPHI looked at data of more than 90 health influencing factors in each county including housing, education, jobs and access to quality health care.

The report indicates that Kane County is strong when it comes to access to exercise opportunities, with 94% of people living close to a park or recreation facility. The data also showed 64% of adults in Kane County (age 25-44) had completed some post-secondary education, and was below the state average of children who lived in poverty. Currently 9% of Kane County children live in poverty.
The data in the report suggests the County needs to work on lowering alcohol use, smoking and obesity rates. It also found higher rates of people under the age of 65 without health insurance and people ages 16 and older who are unemployed. 

This year, the analysis found that counties with well-resourced civic infrastructure have higher rates of high school completion, higher household incomes, less income inequality and lower rates of children in poverty and uninsured adults.