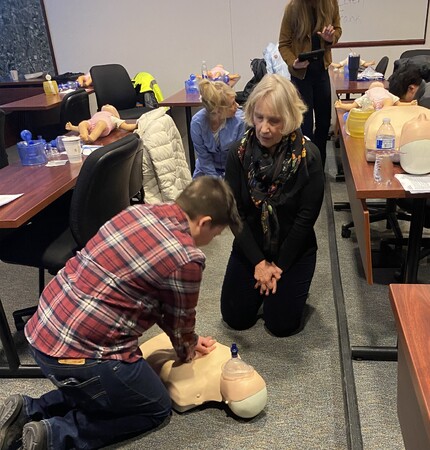 CPR Training in Kane County for National Heart Month
Kane County Connects Staff 2/3/2023 2:00PM
February is National Heart Month and Kane County Sheriff's Office and Health Department have been training dozens of individuals on how to perform Cardiopulmonary Resuscitation, more commonly known as CPR.

CPR is a technique used when someone's heart stops beating. Kane County Board Chair Corinne Pierog recently attended a CPR class and encourages others to do the same.

"I learned that, if performed in the first few minutes of cardiac arrest, CPR can double or triple a person's chance at survival," said Chair Pierog. "Having knowledge of CPR gives me a greater sense of confidence that if an emergency should happen, I may be able to help."
Kane County continues to offer FREE CPR training through the month of February. Click
HERE
or use the QR CODE to sign up for a class.