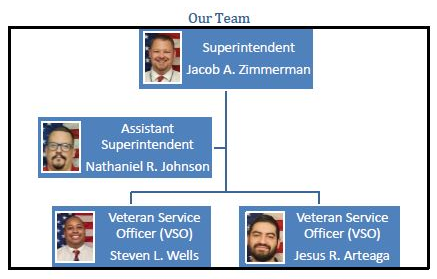 Kane County's Veterans Assistance Commission First in State for High Level Advocate Certification
Kane County Connects Staff 1/4/2023 1:00PM
Two more staff members of the
Kane County Veterans Assistance Commission (VAC)​
, Veterans Service Officer Jesus Arteaga and Assistant Superintendent Nathaniel Johnson, have become Certified Veterans Advocates (CVA), passing a rigorous three-year program and final exam.
According to Kane County VAC Superintendent Jacob Zimmerman, that makes the Kane County VAC the only commission in the state that is comprised solely of staff with the advanced title of CVA. Superintendent Zimmerman and Kane County Veterans Service Officer Steven Wells also are CVAs, receiving those titles in 2018 and 2019 respectively.
"It's because of their dedication, knowledge and passion for helping our veterans that we are able to keep a lean, more efficient and effective office," said Zimmerman. "They just do a fantastic job for our veterans each and every day."
The certification provides a high-level skill set to assist a veteran beyond the point of filing a claim. CVAs are taught how to analyze U.S. Department of Veterans Affairs benefit decisions and strategize the best course of action for the individual filing a claim.
In the last fiscal year, the Kane County VAC staff was responsible for bringing in a record $5.7 million in new benefits to Kane County veterans.
The services offered by Kane County VAC range from helping veterans prepare and file for VA entitlements and providing follow-up services on claims to assisting in cases where benefits have been discontinued. In addition, the Kane County VAC provides information on education benefits, G.I. home loans, disability compensation, pensions, burial, and VA healthcare. They also provide support to the dependents and survivors of veterans in Kane County.
With just over 18,600 veterans, Kane County currently ranks seventh in veteran population among Illinois' 102 counties. Detailed information about the Kane County KCVAC is available on their website at 
https://www.countyofkane.org/pages/veterans.aspx​
.