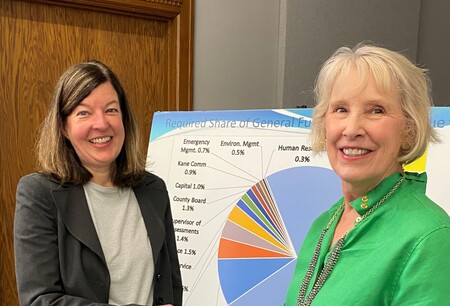 Kane County Hires New Director of Finance
Kane County Connects Staff 7/5/2023 10:00AM
​

The Kane County Board has voted to hire Kathy Hopkinson as the new Executive Director of Finance.

Hopkinson has served as the Chief Financial Officer for the Kane County Division of Transportation (KDOT) since 2014.  She has spent over 30 years serving the public sector in roles with governments, public accounting and non-for-profits. 
​Hopkinson will be in charge of preparing the annual County budget; supervising the financial and budgetary administration of all County departments; calculating annual levy requests; developing financial policies and long-range financial plans; assisting outside legal counsel with union negotiations; and issuing bonds for capital projects. 
Departments under her supervision include Finance, Purchasing, Payroll and Workforce Development.
She replaces Joe Onzick who left the County in March and Kane County Finance Department Director of Fiscal Services Erica Waggoner, who served as interim Finance Director.  Waggoner announced her departure from the County on May 16th.