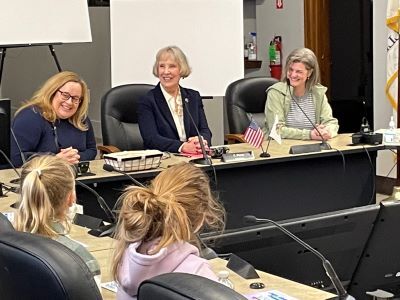 Girl Scouts Take Over Kane County Board Room
Kane County Connects Staff 3/7/2023 2:00PM
Girl Scout Troop 450 from Wild Rose School in St. Charles paid a visit to the Kane County Government Campus this week.  ​
The Troop took over the County Board Room where they sat in the board member chairs and introduced themselves to Kane County Board Chair Corinne Pierog, who was a Girl Scout herself.

Troop 450 also heard from several women leaders in Kane County including Michelle Guthrie, Director of KaneComm (911 Center), Jodie Wollnik, Director of the Kane County Department of Environmental and Water Resources and Jennifer Becker, Deputy Chief of Staff for the Kane County Division of Transportation.