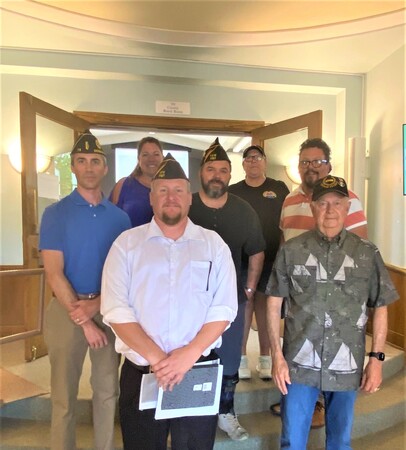 Kane County Veterans Service Organizations Find Unique Financial Support from Kane County
Kane County Connects Staff 10/25/2023 9:00AM
​
As many as a dozen Kane County Veterans Service Organizations (VSOs) have been offered financial help to address dwindling funding sources during and following the pandemic. The Kane County Board took the unique step of allocating nearly $700,000 of federal relief dollars to for groups like AMVETS, American Legions and Veterans of Foreign Water organizations to offset COVID related expenses so they can focus on delivering services to local veterans.  
It's believed Kane County is among the first in the state to provide this type of funding to Veterans Service Organizations as part of the American Rescue Plan Act.

"The pandemic relief funding offered to our VSOs is a clear demonstration of the county's commitment to ensuring that those who have served our country receive the support and care they've earned," said Kane County Board Chairman Corinne Pierog. "

Kane County is home to18,644 veterans, which makes it Illinois' seventh most veteran-populated county.  Fifty-two percent of the County's veteran population is age 65 or older.
"Kane County understands the vital role that VSOs play in the lives of our veterans and their families, and how this funding will make a significant impact on their ability to provide essential services," said Kane County Veterans Assistance Commission Superintendent Jake Zimmerman.

As of October 1, $473,259.82 has been disbursed to seven Veteran Service Organization Posts in Kane County.

| | |
| --- | --- |
| Fox River Geneva Post #75, American Legion | $20,113.46 |
| Aurora American Legion Post 84 | $22,828.00 |
| Aurora AMVETS Post 103 | $198,764.56 |
| Aurora VFW Post 468/ Waidley VFW Post 468 | $45,965.44 |
| Elburn American Legion Post 630 | $18,363.47 |
| Batavia VFW Post 1197 |  $89,076.29 |
| St. Charles VFW Post 5036 | $78,148.60 |
In addition to the funding of VSO's, Kane County also has approved financial support through the Ride In Kane program to provide any veteran living in the county free transportation to medical appointments at local VA run facilities or Kane County's Veterans Court. 
​Community members, businesses, and organizations are encouraged to join Kane County in supporting veterans. Whether through volunteering, donations, or other forms of assistance, every contribution counts.

Kane County received a total of $103,413,041 through the American Rescue Plan Act's State and Local Fiscal Recovery Fund (SLFRF). For more information about the fund and how it is being utilized go to https://www.countyofkane.org/ARPA