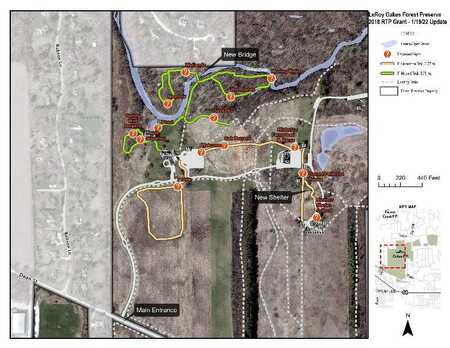 New Trail Project Underway at LeRoy Oakes Forest Preserve
Kane County Forest Preserve Media Release 6/2/2023 6:00AM
​
New improvements are underway at LeRoy Oakes Forest Preserve in St. Charles, courtesy of a recent Recreational Trails Program (RTP) grant awarded to the Forest Preserve District of Kane County.
LeRoy Oakes Forest Preserve is one of the busiest in the Forest Preserve District, with a variety of cultural, historic and natural resources. The site is home to Horlock Hill Prairie, an Illinois Nature Preserve; more than 100 acres of restored prairie, woodlands, and Ferson Creek. The preserve is also home to Creek Bend Nature Center, hub of the District's environmental education division; the Great Western Trail regional trail system; a youth-group campground; the Durant House Museum, an 1840s historic farmstead; and Pioneer Sholes School, a restored one-room schoolhouse.

With these varied elements, the District applied for an RTP grant in 2018, to help tie together all of the important natural, educational and cultural features at the preserve, via an interpretive trail system. Planned improvements include the new trail system, interpretive signage, a new picnic shelter, bridge replacement. "This is something we've been trying to bring to fruition for years, but be sure we develop the site as sensitively as possible, to ensure that all of the species that call this place home can still thrive," said Forest Preserve Executive Director Benjamin Haberthur.

"We're very excited to link our natural resources with cultural ones. When the project's complete later this summer, preserve visitors can learn about the history of LeRoy Oakes Forest Preserve, as well as the species that now live there," he said.
Director of Natural Resources Patrick Chess addressed changes to the current preserve layout, which did impact some of the prairie at the preserve.

"It's important to highlight that the District is a multi-use agency that's responsible not only for the protection and restoration of high-quality natural areas, but also to provide recreational and education access to those natural areas. This is especially true of this project in particular, where we are providing trails adjacent to our nature center, where one of the primary uses will be to hold educational programming that informs the public of the values those natural areas hold," Chess said.

"We have also been careful in our selection of trail locations to minimize the impacts to high-quality natural areas. Many of the new trails will be created through currently maintained ground, while others have been routed along existing footpaths. The types of trails were also selected to minimize impact, with most of the trails through existing natural areas being mowed paths that will maintain permeability and help keep short native plants alive," he said.

​The $400,000 project is expected to be completed by August. The District will be reimbursed up to $200,000 by the grant.

LeRoy Oakes Forest Preserve is located at 37W700 Dean St., St. Charles.

For more information on the Forest Preserve District of Kane County, visit www.kaneforest.com or find the District on social media by searching @forestpreserve.
 Source/ Forest Preserve District of Kane County