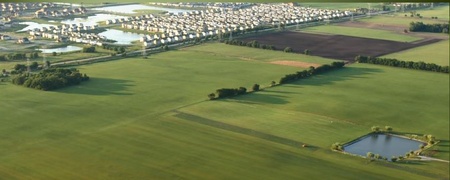 Kane County Discusses Future Preservation of its Agricultural Heritage
Kane County Connects Staff / Public Information Office Intern Gabe Kertesz 7/31/2023 2:00AM
With the growing pressure of residential and commercial development on farmers across the nation, Kane County is redoubling its commitment to local farmland conservation.
Since 2002, Kane County has been involved in farmland protection, utilizing the national Agricultural Conservation Easement Program (ACEP).  ACEP is a voluntary program that protects existing farmland by limiting nonagricultural use.
During a recent presentation to the Kane County Agriculture Committee, County's Farmland Protection Manager Janice Hill outlined the increasing urgency of protecting the County's agricultural heritage as land consumption continues to cast a shadow over portions of rural farmland in the western regions of the County.

Hill said that the most at-risk farms in the next 20 years will be small family-owned farms that serve local markets with produce, eggs, dairy and meat. 

​Right now, Congress is debating a new Agriculture Improvement Act or Farm Bill.  The current measure is set to expire in the fall.  It's unclear whether lawmakers will pass a new bill or extend the current bill.  Hill says if the current bill is extended, the opportunity for additional conservation funding for Kane County is high.  There is also $1.4 billion dollars available for ACEP.

Hill notes the challenges facing farmers also includes natural resources.  Climate change mitigation practices have several categories including soil health, energy and electric efficiency and grazing/pastures.  Water and the challenges urban development poses to the regional water supply is under constant study. The issue is complicated further by climate change, with more intense precipitation in late winter and early spring, followed by drier summers.  Changing temperatures and weather patterns may impact what crops are grown, when they are grown and alter how farmers maintain and care for their livestock.  

​With current resources, anticipated conservation funding through a new federal Farm Bill and the County's existing farmland conservation infrastructure, Hill believes Kane County has a "once in a lifetime" opportunity to help local farmers remain viable for generations to come.