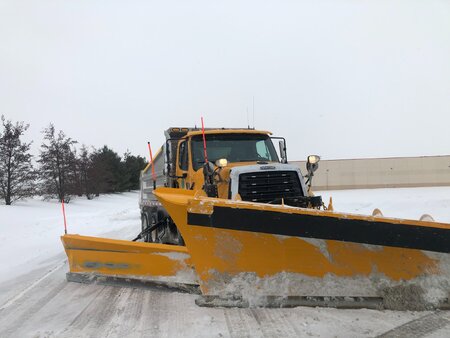 In the Peak of Summer, Kane County is Preparing for Winter
Kane County Public Information Office Intern Gabe Kertesz 7/11/2023 10:00AM
​
As the temperatures continue to rise, it may seem counterintuitive to start thinking about winter. However, at the Kane County Division of Transportation (KDOT), preparation is key to keeping county roads safe during the colder months.
In planning for winter, Kane County Board members recently approved the purchase of 8,000 tons of road salt for $737,000.
Typically, KDOT uses upwards of 9,500 tons of road salt in a single winter season.  Lower snowfall amounts last year allowed the County to save on its salt purchase for this upcoming winter.
KDOT also strives to reduce the potential for water pollution from road salt runoff.  When salt is applied to the roads it mixes in with snow and ice and ultimately becomes saltwater.  The water can seep into the ground and in high enough concentrations can pollute aquifers and groundwater reserves.  To combat this, KDOT staff has adopted measures to adjust snow removal operations on County roads based on traffic counts, time of day, day of the week and the following day weather forecast.

​The County continues to monitor how much salt is being used on the roadways and makes changes when necessary.