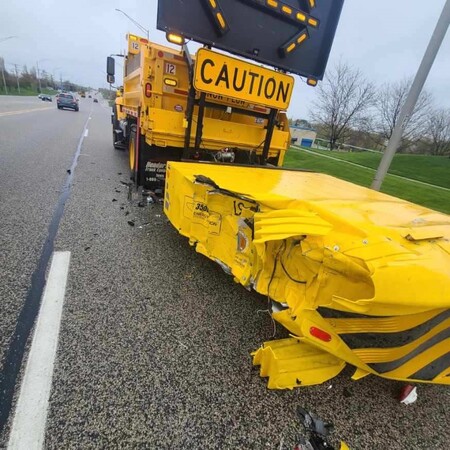 Kane County Division of Transportation Truck Struck by Vehicle
Kane County Connects Staff - KDOT 5/2/2023 12:00PM
​
On Monday, May 1, 2023 at approximately 10:00 am two KDOT Highway Maintainers were working along the 2200 Block of Randall Road in Carpentersville. While the workers were performing their duties, their dump truck with an attached TMA crash cushion device located in the work zone was struck from behind by a vehicle headed northbound on Randall Rd. 
"TMA" stands for Truck Mounted Attenuator, which is a crash cushion that is mounted to the rear of a safety truck. This cushion is specially engineered to absorb impact when hit, which protects the crew working in front of the truck and reduces the force applied to the driver of the impact vehicle. In this situation, KDOT staff and the driver of the vehicle were not injured and all vehicles were able to drive away from the scene. The pictures attached show the damage to the TMA.

​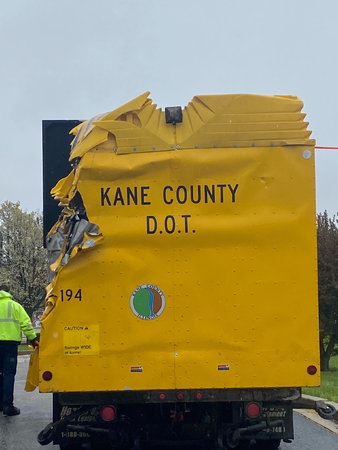 A TMA truck can be the difference between life and death serving as a protective barrier between the traveling public and crews working on the highway. With motorists generally becoming more distracted while driving, highway construction zones have become increasingly dangerous for the men and women who work in them. As always, KDOT would like to remind the motoring public of the presence of workers in County roadways and to stay alert to temporary lane closures.
Mike Way, Road Maintenance Supervisor and Safety Coordinator for KDOT states, "It's important for the motoring public to be aware of all work zones. Protecting our employees and working safely is our number one priority. We all want to go home at the end of the day."

Source/KDOT Media Release