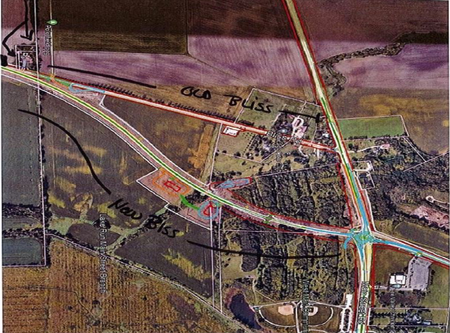 Name Change for Portion of Bliss Road
Kane County Connects Staff 9/18/2023 7:00AM
​
Kane County has approved a name change for a portion of Bliss Road, to Old Bliss Road.   When completed, a newly realigned Bliss Road in Blackberry Township just west of Batavia, will be named Bliss Road and the section remaining where the original Bliss Road was once located will become Old Bliss Road.  The move impacts about 10 parcels of land that will have a new address. 
The Bliss/Main/Fabyan improvement project, which started last year, will join two busy intersections along Main Street into one, realigning Bliss Road so it intersects with Main Street and Fabyan Parkway. The three roads will be connected through a roundabout.
The last time the Kane County Board voted to change the name of a road was in 2010, when a portion of McDonald Road near South Elgin was renamed Stearns Road and a portion of the original Stearns Road was made into a cul-de-sac and renamed Old Stearns Road.   The completed project created what is now known as the Stearns Road Bridge corridor, carrying motorists from Randall Road to Route 25 over the Fox River. ​