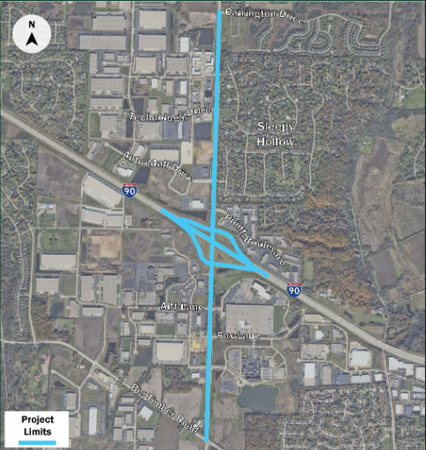 Randall Over 90 Public Information Meeting Summary Available
Kane County Connects Staff / KDOT Release 9/13/2023 9:00AM
​
Public Information Meeting Summary Available

The Kane County Division of Transportation (KDOT) has developed a meeting summary documenting the public information meetings for the Randall Over 90 project held on May 15 and May 16, 2023. The summary includes all materials presented, comments received, and a summary of feedback on the Alternatives Under Consideration.
Through the Randall Over 90 project, KDOT is studying potential improvements to Randall Road between Big Timber Road on the south and IL 72 on the north, with particular focus on its interchange with 1-90 (the Jane Adams Memorial Tollway). 

How will this corridor serve the future needs of our community? What will it look like? How will it operate? This project will provide an early look at potential improvements to Randall Road. 
​

Right now KDOT is evaluating and/ or updating the following:

Bicycle and pedestrian accommodations

Traffic and safety information

Utility impacts

Detailed roadway, structural and drainage design

NEPA analysis and documentation, which includes a description of environmental and community impacts

Detailed noise analysis, including evaluation of noise mitigation strategies

Continued public and stakeholder engagement

A
second public information meeting is tentatively scheduled for Spring 2024 where KDOT will present the Preferred Alternative for review and input. Environmental and design approval of this project is anticipated in Fall 2024 by the Illinois Department of Transportation (IDOT) and the Federal Highway Administration (FHWA).