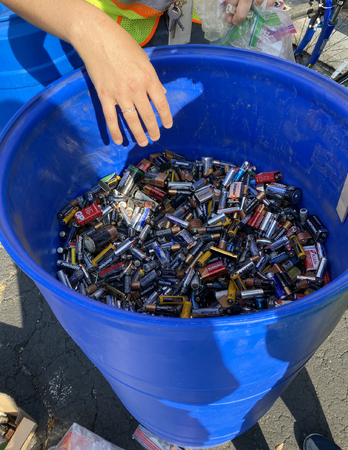 50,000 Pounds of Material Collected at Kane County's July Recycling Event
Kane County Connects Staff 8/7/2023 3:00AM
​
Kane County is all charged up about its recent recycling effort, not just because of the amount of batteries collected, but because the recycling Extravaganza held on July 22 drew over 740 visitors who dropped off an estimated 50,000 pounds of material for recycling and reuse.
Among the items recycled, batteries. Overall, batteries accounted for an estimated 2,184 pounds of material, and included alkaline cells,  non-rechargeable lithium batteries and multiple types of rechargeable batteries. Perhaps most notably, we recovered 25 damaged lithium ion batteries, which present a fire hazard when improperly stored at home or when thrown in curbside trash or recycling bins.  
Other notable contributions of material dropped off during Kane County's Recycling Extravaganza included bikes totaling an estimated 1,017 pounds and books totaling 6,295 pounds. Electronics, such as computers and televisions, made up the heaviest portion of the recycled weight at 25,031 pounds.
Other items recycled and their estimated weights included:
Fluorescent tubes, CFLs, and LEDs - 400 lbs.
Latex paint - 8,845 lbs., and aerosols, consisting of 401 cans, also made significant contributions.
Compressed gas, in 59 containers, and 15 child seats - 805 lbs.
Styrofoam – 300 lbs.
Textiles – 4,125 lbs.
It is noteworthy that the total weight of 50,000 lbs. or 25 tons is comparable to last year's achievements, when the Extravaganza recorded 26.5 tons of recycled material and 778 visitors.
The next recycling event hosted by Kane County will be held on Saturday September 30, 8 a.m. - Noon in St. Charles and will include free document shredding for Kane County residents.  Items that will also be accepted at the event include: latex paint*, aerosols*, camp-sized propane tanks and other small compressed gas tanks*, clothing, shoes and hard-to-recycle home goods (more detail will be provided as event approaches)
* = Recycling fee may apply 
Learn more about recycling efforts and ways you can get involved by going to www.countyofkane.org/recycling.
​