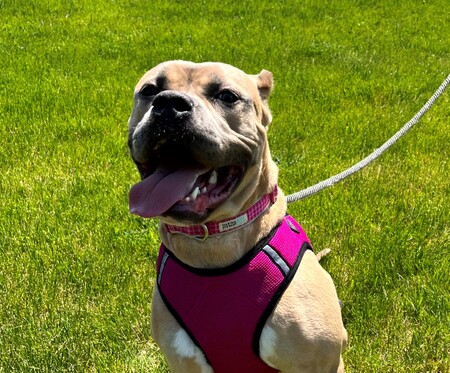 Kane County Animal Control Pet of the Week
KCAC's Adoptable Pet of the Week is written by Tecla Metzel of Kane County Animal Control 5/30/2023 8:00AM
​
If you saw a picture of Venus, KCAC's spayed tan and white female Pit Bull terrier-mix, you might think she was cute, or maybe adorable. You are correct with both assumptions!
Meeting her in person is an even better experience. You'll notice her bright and clear eyes as she gives you an immediate smile and her tongue lolls to the side. She knows she has to impress you so she will bounce around as though she has springs on her feet, just because she's meeting you for the first time and she's so happy to get noticed.

Venus Williams, the tennis superstar said, "My ambition is to enjoy my life and to do exactly what I want to do."  
Venus the superstar stray was found with her sister Serena and would definitely agree with her namesake. If there's one word to describe the 4-legged Venus it would be "active." Not one to wile away her days playing with toys, Venus is on the go and loves to run.
Her personality is big and bold, and without boundaries, so she will need a family willing to get her trained so she can live up to her full potential. She doesn't mind other dogs and is definitely willing to share the track with them as long as they are patient and energetic.

Venus will be a great dog for anyone who needs a reason to get outside and enjoy the companionship of a wonderful, loving dog who can run like the wind or zoom around the yard.

At the end of the day, a cuddle session will definitely be in order and Venus is perfectly willing to end her day getting spoiled.

How to Adopt
For more information regarding Kane County Animal Control's adoptable animals and for an adoption application, please go to www.kanecountypets.org.
All Kane County Animal Control adoptable cats and dogs are spayed/neutered, microchipped, up-to-date on all vaccines including rabies. They are tested for feline leukemia/FIV and heartworm.

The adoption fee for dogs is $200 and $100 for cats. Adoption of two dogs is $300 

KCAC's Adorable, Adoptable Pet of the Week is written by Tecla Metzel of Kane County Animal Control 

The bond with a true dog is as lasting as the ties of this earth will ever be." – Konrad Lorenz, Austrian zoologist, ethologist & ornithologist