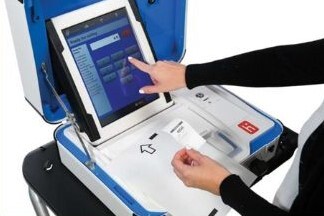 Kane County Clerk Offers Public Demonstrations of New Voting Equipment at Events in November and December
Kane County Connects Staff / Kane County Clerk Media Release 11/1/2023 6:00AM
​
The office of Kane County Clerk John A. Cunningham will begin public demonstrations of the new Hart Verity Duo voting equipment at a series of events at libraries and community centers across Kane County. 
Clerk Cunningham said, "As we prepare for General Primary Election on March 19, 2024, we are beginning to launch a voter education project to get voters ready to use the new voting equipment which will debut here in the Primary Election. The new equipment is an upgrade of our current equipment and voters will be familiar with how to use it. Many of the same voter-friendly and easy-to-use functions exist on the new equipment.  Upgraded features to the new equipment include a touch screen instead of the scrolling wheel.  A printed paper version of the voting summary will make voting even easier and more transparent.  I encourage you to come to one of these events to learn about and try voting on the new machines prior to next year's elections."
The first round of public demonstrations will be held at the following locations:

● November 8, 9am-1pm: Batavia Public Library, 10 S Batavia Ave, Batavia, IL 60510

● November 9, 11am-5pm: Elgin Community College, 1700 Spartan Dr, Elgin, IL 60123
● November 13, 10am-1:15pm: Messenger Public Library, 113 Oak St, North Aurora, IL 60542
● November 14, 9am-1pm: Prisco Center, 150 W Illinois Ave, Aurora, IL 60506
● November 15, 10:15am-1:15pm: Sugar Grove Public Library, 125 Municipal Dr, Sugar Grove, IL 60554
● November 15, 3pm-7pm: Gail Borden Library, 270 N Grove Ave, Elgin, IL 60120
● November 17, 9am-1pm: Town & Country Public Library, 320 E North St, Elburn, IL 60119
● November 20, 9am-1pm: Vaughan Center, 2121 W Indian Trail, Aurora, IL 60506
● December 2, 12-5pm: Kane County Flea Market, 525 S Randall Rd, St. Charles, IL 60174
● December 5, 1-4:30pm: Geneva Public Library, 227 S 7th St, Geneva, IL 60134
● December 7, 3-7pm: Aurora Public (Santori) Library, 101 S River St, Aurora, IL 60506
● December 16, 10am-12pm: Dundee Township (Randall Oaks) Library, 500 Randall Rd, West Dundee, IL 60118
● December 16, 12:30-4pm: Dundee Township (Fox River Valley) Library, 555 Barrington Ave., West Dundee, IL 60118
Cunningham added, "These public demonstrations are just the beginning of our voter education program. We will be bringing voting machines to public institutions, community events, and meetings across Kane County between now and the November 5, 2024 General Election. We will be providing more information electronically on our website and social media sites as well. We look forward to working with community groups and elected officials to meet our voters where they are so that everyone is prepared to vote in next year's elections."

As a past president of the National Association of County Recorders and Clerks, Cunningham worked with election officials from around the country and built a network to discuss best practices, evaluate election equipment, and develop new innovative ways to provide services. Kane County's voting system, including its in-person voting equipment and Vote by Mail creation and processing equipment, has been praised and recognized by election officials across the country.
​The Clerk's Office plans to have more events in 2024. For more information about voter education and the 2024 elections, visit the Clerk's website, https://clerk.kanecountyil.gov/Elections, and the Clerk's social media pages on Twitter/X @KaneCoILClerk, and Facebook www.facebook.com/kanecountyclerk.