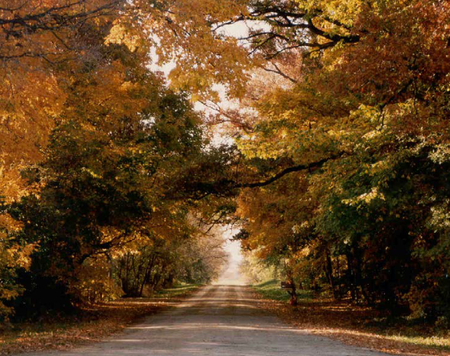 Preserving Kane County's Rustic History, One Road at a Time
Kane County Public Information Office Intern Gabe Kertesz 6/16/2023 6:00AM
​

Ever since the year 2000, Kane County has designated a few specific roadways as Rustic Roads in an effort to preserve their historic charm.
Kane County is known for its mixture of rural and urban, rolling hills on one hand and bustling towns on the other, each working to shape the character of the county.  In order to make sure that the rustic beauty of Kane County is not lost to the growing urban centers, the County designated four roads as Rural Roads over the last two decades, roads preserved for their special rustic charm, beauty and history.
These roads feature beautiful foliage, scenic views of plains and hills, and century-old farms that shaped the early history of Kane County.  The Rustic Road program was designed to protect unique rural landscapes and roadways.  Moreover, the program can also be used to protect the built features along the road, preserving the historic buildings that defined the early history of the County.
The most recent addition to the Rustic Road program was Pouley Road, located just on the edge of Elburn.  It is easy to see why it was designated a Rustic Road.  In the just over three minutes it takes to drive the main section of Pouley Road, a car would pass dense tree canopies, an impressive hillside view, and two county landmarks, Blackberry Creek Farm and Pouley Estate.  The other Rustic Roads, including Brundige Road west of Geneva, Kedeka Road near Sugar Grove, and Thurnau Road just outside Pingree Grove, are quite similar, showcasing an array of vistas and historic buildings. 
The mission of preserving these historic buildings goes hand in hand with sustainability and economic development initiatives.  The areas around these Rustic Roads nourish many plants and animals that would otherwise be threatened by new developments and deforestation, so the existence of the road allows these species to continue to thrive in the area.  In addition to this, these roads help maintain Kane County's unique character as a mixture of rural and urban life, a status that can bring both tourism and economic development to the County.
​Given the economic and population growth of the County, these roads serve as reminders of the area's rustic history and as connections to its future.