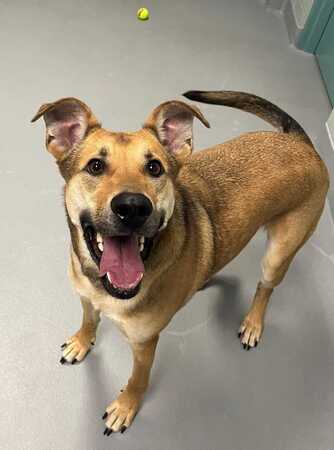 Kane County Animal Control Adoptable Pet of the Week
Kane County Connects Staff/ Tecla Metzel of Kane County Animal Control 3/27/2023 7:00AM
So, I understand you might be interested in adopting Finn, the 2-1/2-year-old German shepherd that was owner-surrendered to KCAC. He's a great dog! Very sweet. Absolutely loves people! He's a real corker, that Finn!
He has a very high energy level. Perhaps he's not as fast as the Formula Rossa, the fastest amusement ride in the world, but Finn's energy level could possibly be compared to the Indy 500.
In other words, he'll definitely keep you on your toes! It's hard to get him to focus, unless, of course, you have a squeaky toy. He loves his squeaky toys! His favorite game is keep-away with staff members. He'll give the toy back to you, but he's always ready to grab it again. When he gets excited, he's a little difficult to control because he doesn't calm down very easily.
His new family will definitely need to work with him on learning manners and boundaries. Other dogs make him a little nervous. In some ways, it's kind of cute because he reacts like a shy teenager out on his first date. When a larger dog approached him during a temperament testing exercise, Finn attempted to hide behind the handler.
Because we don't want to stress him out, kennel staff suggests there not be any other dogs in his new forever home. That way he will have plenty of opportunity to focus on understanding his boundaries, training, and learning how to play without accidentally hurting anyone.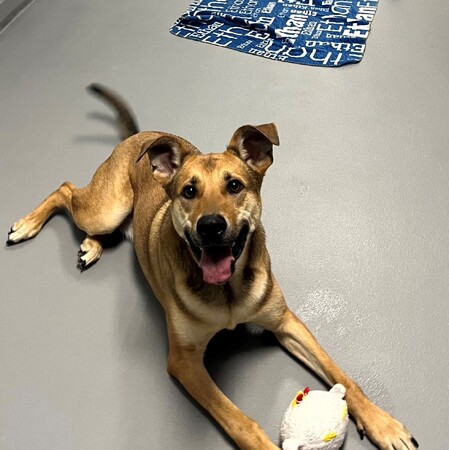 Despite the fact that Finn may need some training and a little socialization, he is definitely ready to find his forever home, hopefully with a family ready to teach him everything he needs to know to succeed in his new home.
He already knows how to cuddle and get pets—just act cute and innocent and smile a lot.
How to Adopt For more information regarding Kane County Animal Control's adoptable animals and for an adoption application, please go to www.kanecountypets.org.
All Kane County Animal Control adoptable cats and dogs are spayed/neutered, microchipped, up-to-date on all vaccines including rabies. They are tested for feline leukemia/FIV and heartworm.
The adoption fee for dogs is $200 and $100 for cats. Adoption of two dogs is $300 and it is $150 to adopt two cats.
"Without my dog my wallet would be full, my house would be clean, but my heart would be empty." – Unknown author
KCAC's Adorable, Adoptable Pet of the Week is written by Tecla Metzel of Kane County Animal Control.