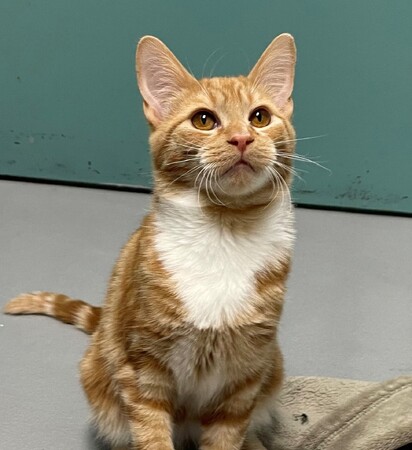 Kane County Animal Control Adoptable Pet of the Week
KCAC's Adoptable Pet of the Week is written by Tecla Metzel of Kane County Animal Control 4/9/2023 5:00AM
The world is a cacophony of sounds, some that blend and some that don't. Some we can hear, some are barely audible, hovering just above the surface, straining to be heard. Some lie under the surface, vibrating loudly, ready to emerge as part of a beautiful orchestral piece.
One might say the world's rhythm is a culmination of sounds and vibrations that make up a universal symphony that belongs to everyone. Happily, it includes a 7-month-old small orange Domestic Shorthair named Symphony.
Symphony was surrendered to KCAC with her siblings back in February. All the members of the litter are turning out to be sweet kittens that really need the love and support of a fur-ever home in order to turn their kitty energy into perfect feline harmony.
Symphony conducts her own orchestra. She can be energetic and timid practically at the same time. When she plays with her siblings she can be graceful one minute and clumsy the next, cuddly yet focused only on playing. In other words, she's a typical kitten following her own score to life.
KCAC Pupdate

Congratulations to Reggie, the huggable Golden Retriever puppy that was found as a stray. We are so happy that he found his fur-ever home with the perfect family. We hope he is loving his new life learning all the ropes to becoming the best citizen he can possibly be. Good boy, Reggie!
How to Adopt

For more information regarding Kane County Animal Control's adoptable animals and for an adoption application, please go to
www.kanecountypets.org
.
All Kane County Animal Control adoptable cats and dogs are spayed/neutered, microchipped, up-to-date on all vaccines including rabies. They are tested for feline leukemia/FIV and heartworm.
The adoption fee for dogs is $200 and $100 for cats. Adoption of two dogs is $300 and it is $150 to adopt two cats.
"Your house will always be blessed with love, laughter, and friendship if you have a cat." – Lewis Carroll, Author, Alice in Wonderland