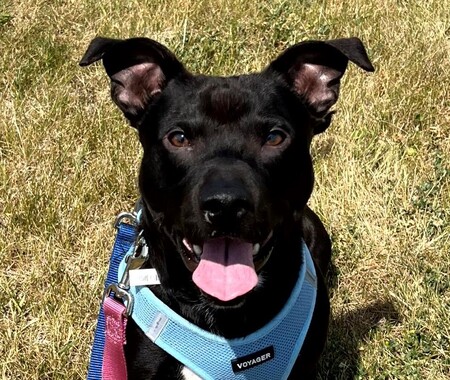 Kane County Animal Control Pet of the Week
KCAC's Adorable, Adoptable Pet of the Week is written by Tecla Metzel of Kane County Animal Control. 7/3/2023 10:00AM
​
He's short, low to the ground and absolutely adorable!
With such a big head, one might think he would tip over, but Chubby, a 2-year-old black and white neutered unknown-mix has adapted to his shortness. He uses his cuteness to get lots of pets from shelter staff and anyone else who might be available.
He will chase a toy and bring it right back to you, especially squeaky toys. He amazes himself and others by running as fast as he can to get the toy and carry it back so it can get thrown again. Life is so good!

Chubby is great at snuggling and isn't shy about asking for hugs and pets. He also enjoys the company of other dogs but will need some training and socialization to help him calm down a bit.

Chubby is the real deal, the whole package dog people wait their entire lives to find. Sweet, loving, good with other dogs, playful and a real snuggler. His heart is pure love and loyalty.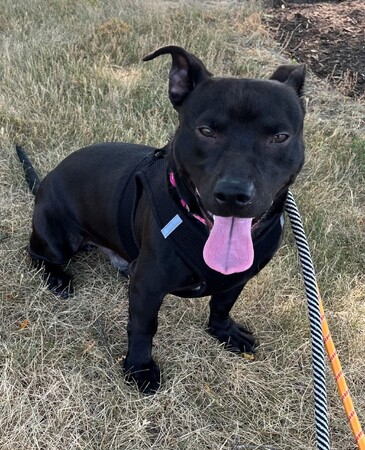 Come visit Chubby!

KCAC Pupdates
Congratulations to Orchid, the 1-year-old German shepherd who finally found her fur-ever home. It was love at first sight when Orchid met her new family. She trusted them enough to ask for pets and she was rewarded with an entire slew of them.
With a nary a glance back at the shelter, Orchid excitedly leapt into her chariot and happily left the parking lot as her new family drove her into her brand new future life.

How to Adopt
For more information regarding Kane County Animal Control's adoptable animals and for an adoption application, please go to www.kanecountypets.org.
All Kane County Animal Control adoptable cats and dogs are spayed/neutered, microchipped, up-to-date on all vaccines including rabies. They are tested for feline leukemia/FIV and heartworm.
The adoption fee for dogs is $200 and $100 for cats. Adoption of two dogs is $300 and it is $150 to adopt two cats.      
KCAC's Adorable, Adoptable Pet of the Week is written by Tecla Metzel of Kane County Animal Control.​ 

"The love of a dog is a pure thing. He gives you a trust which is total. You must not betray it." – Michel Houellebecq, French author, poet, actor, filmmaker & singer