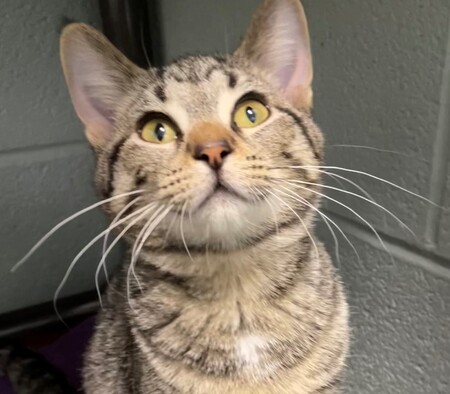 Pet of the Week - Bashful
Pet of the Week is written by Tecla Metzel of Kane County Animal Control 1/4/2023 12:00PM
He's a handsome 4-month-old kitten among a litter of beautiful 4-month-old kittens, all brown and black striped Domestic Shorthairs.  On a scale of 1 – 10, the cuteness factor is definitely a 12.
Bashful is his name and he's living his best life as a spirited kitten. And there's definitely no disputing how handsome he is with dark striping against a cream background.

Bashful is no slouch when it comes to his physique, either. Beautiful yellowish eyes that look at the world in wide-eyed wonder. He might be a little shy at first meeting anyone new, but in no time he's attempting to get their attention with little vocal "mews" and some tiny paw touches. He gets along very well with his brother and sisters, chasing them, piling on top of them and generally perfecting his kitten attitude.
Bashful will make a great addition to any family that enjoys the free, unabashed playfulness of a kitten! How to Adopt For more information regarding Kane County Animal Control's adoptable animals and for an adoption application, please go to www.kanecountypets.org.
All Kane County Animal Control adoptable cats and dogs are spayed/neutered, microchipped, up-to-date on all vaccines including rabies. They are tested for feline leukemia/FIV and heartworm.

The adoption fee for dogs is $200 and $100 for cats. Adoption of two dogs is $300 and it is $150 to adopt two cats.

KCAC's Adorable, Adoptable Pet of the Week is written by Tecla Metzel of Kane County Animal Control.
"The only thing a cat worries about is what's happening right now. As we tell the kittens, you can only wash one paw at a time." – Lloyd Alexander, Author of fantasy for children & young adults