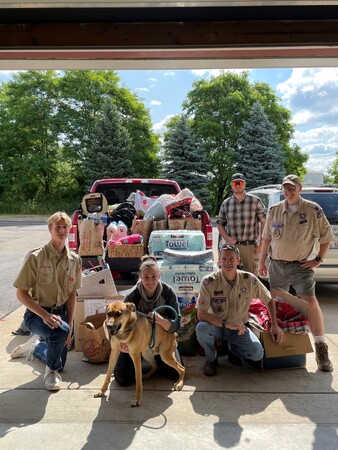 Eagle Scout Project Benefits Kane County Animal Control
Written by Lauren Cofer of Kane County Animal Control 6/26/2023 10:00AM
Did you know that only around six percent of all BSA Scouts will earn the Eagle ranking? As the highest achievement attainable as a Scout, it proves that - without a shadow of a doubt - this young adult has shown to be an exemplary member of our community. Someone who is always there to help; someone who is kind to all; someone who can help lead us to do great things, together.
Aidan Bruhl, from our local Troop 7 of Elburn, has shown his abilities and kind heart to an absolutely astonishing level while on his mission to earn Eagle rank. Leading, organizing, and coordinating his service project that involved all of Blackberry Township, Aidan rallied the community to help our animals in need. Thanks to Aidan's efforts and the great generosity of the Township, truckloads of donated food, bedding, cleaning supplies, and toys (the list goes on!) were brought to our facility.

We here at Kane County Animal Control are incredibly honored to have been chosen as the recipient for Aidan's service project. It was, by far, the largest donation our office has ever seen and it will go a long way to help us provide the best care and environment for the stray animals of Kane County that find their way to our facility. We are so thankful for the generosity of our community and so very proud of young adults like Aidan who will, without a doubt, continue to lead our community to do great things, together.
​