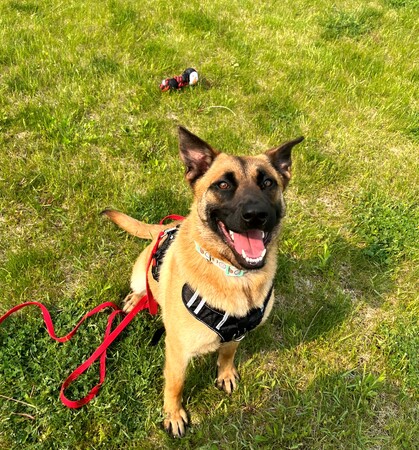 Kane County Animal Control Pet of the Week
KCAC's Adorable, Adoptable Pet of the Week by Tecla Metzel of Kane County Animal Control. 6/11/2023 10:00AM
​
Wanted!
A family looking for adventure, but willing and able to pamper a true princess in training.

Must love long walks on the beach and exploring nature trails. Should be willing to share all of their days with a 1-year-old spayed Belgian Malinois-mix named Zelda who believes life isn't just for sitting. There's a large world out there and Zelda is ready to experience everything she possibly can.
She smiles from the time she gets up in the morning to the time she goes to sleep because happiness is in her DNA. Playing with toys is not, however.

She would much rather rip a toy apart in her kennel than actually play with it. Long walks and exploring nature is more her thing.

She might be a little hesitant with other 4-footed animals at first, especially if there are a few princesses around. Give her some time to work through her shyness and before you know it, she will be more than willing to share her royal space.

Once she gets to know her people, she is a total goofball willing to enjoy all the pets she can handle.

If Zelda sounds like the perfect addition to your castle, then come to Kane County Animal Control and check her out. She's happily waiting for you.

How to Adopt
For more information regarding Kane County Animal Control's adoptable animals and for an adoption application, please go to www.kanecountypets.org.
All Kane County Animal Control adoptable cats and dogs are spayed/neutered, microchipped, up-to-date on all vaccines including rabies. They are tested for feline leukemia/FIV and heartworm.
The adoption fee for dogs is $200 and $100 for cats. Adoption of two dogs is $300 and it is $150 to adopt two cats.  
KCAC's Adorable, Adoptable Pet of the Week is written by Tecla Metzel of Kane County Animal Control.     
"A new dog never replaces an old dog, it merely expands the heart." – Erica Jong, American novelist, poet