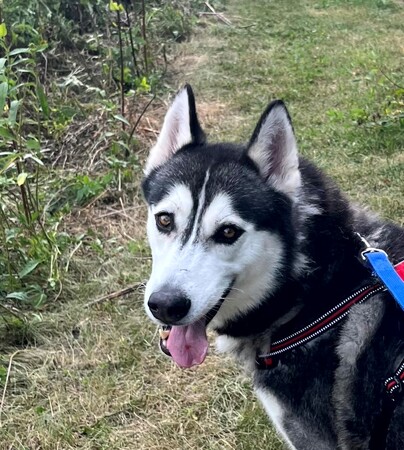 Kane County Animal Control Pet of the Week
KCAC's Adorable, Adoptable Pet of the Week is written by Tecla Metzel of Kane County Animal Control. 9/17/2023 11:00AM
​
"I'm for the unconditional love of dogs. May we learn the lesson of that love by heart." – Taylor Mali, Brooklyn-based poet & educator
Are you the type of person who looks forward to the cool days and nights of fall?

Do you imagine walking or running through fallen leaves as they crunch under your feet or, better yet, enjoy playing Frisbee with your 4-legged best friend?

Then Enzo, a neutered 5-year-old black and white Siberian husky that was owner surrendered to KCAC is looking to meet you.
He's a big boy, nearly 81 pounds, but he's extremely handsome with a vibrant personality that's off the charts. His energy abounds, especially when he's taken for a walk or someone makes a play date with him.

When it comes to other dogs, Enzo is not a fan. It's not that he totally dislikes other dogs. It's just that he would prefer to spend his time with his new family exploring the world instead of playing with other canines.
However, if the prospective new dog companion is fairly laid back and not an in-your-face-type of personality, then Enzo won't mind having a playmate.

Although he wants to be considered a tall, dark and handsome loner, he's definitely not the strong and silent type. Enzo loves to talk and is more than willing to share his views of the world as he knows it.   

Magnificent Enzo is waiting for his fur-ever person or persons. Is that you?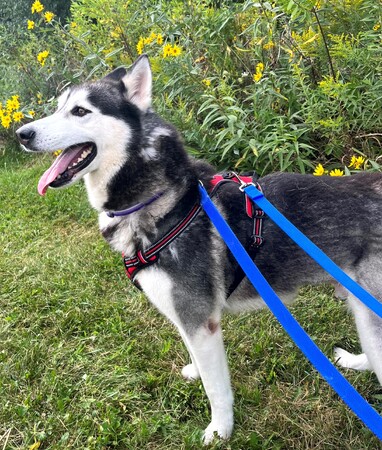 KCAC Pupdates
Congratulations to Ducky, the very vocal 5-year-old Coonhound-mix found as a stray! We are so excited she was finally adopted after spending way too long at the KCAC shelter.
Ducky is a sizable hound who loves to run and play and puts her whole heart into everything she does. She also loves to get loads of pets and belly rubs. Her expansive new family is more than ready and able to give her all of the attention she needs for the rest of her life.

We are so happy for her and wish her never-ending love and attention from her fur-ever family!  You rock, Ducky!
How to Adopt
For more information regarding Kane County Animal Control's adoptable animals and for an adoption application, please go to www.kanecountypets.org.
All Kane County Animal Control adoptable cats and dogs are spayed/neutered, microchipped, up-to-date on all vaccines including rabies. They are tested for feline leukemia/FIV and heartworm.

The adoption fee for dogs is $200 and $100 for cats. Adoption of two dogs is $300 and it is $150 to adopt two cats.    
KCAC's Adorable, Adoptable Pet of the Week is written by Tecla Metzel of Kane County Animal Control.