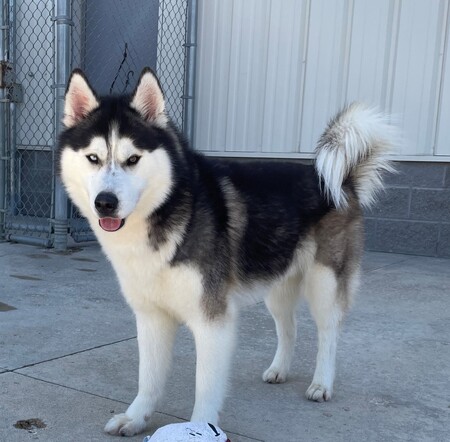 Kane County Animal Control Pet of the Week
KCAC's Adorable, Adoptable Pet of the Week is written by Tecla Metzel of Kane County Animal Control 4/22/2023 1:00PM
​
His name was originally Apollo but KCAC already had another dog named Apollo, so the shelter staff changed it to Mystic.
In a strange way, it fits him. There is something ethereal about him, something not of this world. He moves with the speed of light, so fast you almost can't see him. And you can tell he loves to run, run like the wind, run so others can't catch him.
He is a handsome devil, too. If dog competitions were won merely on looks alone (oh, they are?) then this neutered male, black and white 1-year-and-4-month-old Siberian Husky-mix would take the prize every time.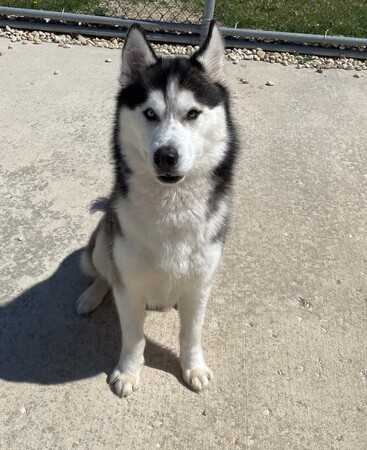 Found all by himself in Saint Charles, Mystic is very smart, almost too smart, but doesn't have the social skills he needs to understand boundaries.
He will need a lot of training to get him up to speed, so KCAC shelter staff recommend Mystic remain the only dog in his new family's home. An accomplished dog owner would be ideal for Mystic's new person, especially if they have plenty of experience working with a dog of his special talents.
He may not become an overnight success, but with enough positive reinforcement, dedication and love of his new family, fleet-footed Mystic will have a chance to become more than just a handsome face.  
KCAC Pupdate
Congratulations to Marilyn, the 1-year-old Siberian husky who had been at KCAC since January. In a flurry of events, Marilyn finally found her forever home achieving the mother lode when it comes to both 4-legged and 2-legged family members. She seemed to know her life was going to change for the better and we are so happy she found her final home.
How to Adopt
For more information regarding Kane County Animal Control's adoptable animals and for an adoption application, please go to www.kanecountypets.org.
All Kane County Animal Control adoptable cats and dogs are spayed/neutered, microchipped, up-to-date on all vaccines including rabies. They are tested for feline leukemia/FIV and heartworm.
The adoption fee for dogs is $200 and $100 for cats. Adoption of two dogs is $300 and it is $150 to adopt two cats. 
KCAC's Adorable, Adoptable Pet of the Week is written by Tecla Metzel of Kane County Animal Control.

"Love is a mystic path on which two distant souls meet and become one." – Yash Thakur, Indian fitness coach