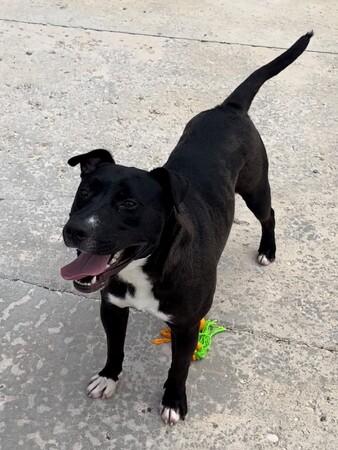 Kane County Animal Control Pet of the Week
KCAC's Adorable, Adoptable Pet of the Week is written by Tecla Metzel of Kane County Animal Control. 7/30/2023 8:00AM
​
"No animal I know of can consistently be more of a friend and companion than a dog." – Stanley Leinwall, Author
It's not easy being a dog, especially in this day and age.

No matter how good a boy or girl you try to be, it never seems to be enough.

You could be the best dog ever in the entire universe of good dogs and your owner will still surrender you or let you go.

Letting you go means wandering the mean streets of whatever city all by yourself.

Alone. Eating garbage, hiding in alleys, running from coyotes.

All because you no longer fit into that tiny little world of humans that they think is more important than having a real friend or companion.
And so it was with a wonderful young 1-year-old neutered black and white Pit Bull terrier-mix named Percy found wandering all by himself, no owner in sight.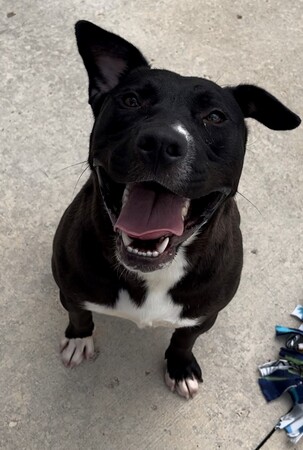 Percy will sit and give anyone his paw to remind them that he is there and they need to notice him because who could ignore that handsome face, especially if he gives you his happy-go-lucky smile?

He doesn't hold back when it comes to smiles, either. It's all or nothing. He will look you in the eye and then break into a happy smile, all for you.

If he doesn't recognize you at first or doesn't know you right off the bat, he might be a little shy, but then, once he's more comfortable, he's all about going on a walk with you and giving paw and jumping up for hugs.   

He likes toys and will play by himself.

If you throw the toy, he might decide to get it or he might decide to just stay by you.
Percy thinking says, "Sometimes it's better to stay with the person who threw the toy. That way, they won't forget you during the time it takes to bring the toy back."

Percy is all about not getting forgotten. Probably left over from living the life of a stray.

He seems to like other dogs but if they bark at him, he will just sit down. If he gets excited after initiating play, he will spin around and bump the other dog in the face with his butt. That will definitely get their attention, don't ya think?

All of this getting acquainted with other dogs and going on long walks can make Percy tired, so he will settle down and get quiet if you ask him to.

It might be good to just cuddle with him on the couch as you stream your favorite show.

Just don't forget that he's there with you, being the best friend you've ever had.

How to Adopt
For more information regarding Kane County Animal Control's adoptable animals and for an adoption application, please go to www.kanecountypets.org.
All Kane County Animal Control adoptable cats and dogs are spayed/neutered, microchipped, up-to-date on all vaccines including rabies. They are tested for feline leukemia/FIV and heartworm.
The adoption fee for dogs is $200 and $100 for cats. Adoption of two dogs is $300 and it is $150 to adopt two cats.