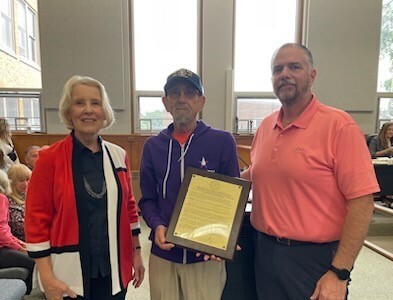 Kane County Board Recognizes Suicide Prevention Month Through Proclamation
Kane County Connects Staff 9/12/2023 12:00PM
The Kane County Board has overwhelmingly approved a proclamation recognizing suicide prevention month and 25 years of work by Batavia based Suicide Prevention Services of America.
PROCLAMATION RECOGNIZING SEPTEMBER 2023 AS SUICIDE
PREVENTION AWARENESS MONTH IN KANE COUNTY AND
CONGRATULATING SUICIDE PREVENTION SERVICES OF AMERICA FOR 25 YEARS OF SERVICE IN KANE COUNTY

WHEREAS, World Suicide Prevention Day is September 10th and September is National Suicide Prevention Awareness Month, and this Kane County Board desires to participate at this time to share a
message of hope and healing, to de-stigmatize talking about suicide and accessing treatment, to promote awareness of and suicide prevention resources available across Kane County, and to recognize that everyone has a role to play in preventing suicide; and
WHEREAS, according to the Centers for Disease Control and Prevention, suicide currently ranks as the second leading cause of death for ages 10-14 and 25-34 in the United States; and
WHEREAS, suicide is a national health problem, and a preventable types of death in the nation; and
WHEREAS, in Kane County, has increased by over 10% over the past five years with 216 people dying by suicide, including 173 males and 43 females and the number of people entering the hospital after attempting suicide has increased by 97% since 2018; and
WHEREAS, this Kane County Board recognizes the contributions of educators, health and mental health professionals, paraprofessionals and other health and mental health care providers, first responders,
community organizations, and community members, and this Kane County Board values their steadfast  dedication to each of their respective roles which are central to suicide prevention, crisis intervention, and activities that reduce risk and promote healing after a suicide death; and
WHEREAS, Suicide Prevention Services of America, as one of those organizations, has been serving
Kane County for 25 years to open minds, save lives, and restore hope through prevention, intervention, and
postvention using education, advocacy and collaboration, and
WHEREAS, Suicide Prevention Services of America offers a 24-hour telephone and text hotline linked
to the 9-8-8 Suicide and Crisis Lifeline, counseling, depression screening, workshops, prevention training,
intervention in schools, support groups, and hosts educational and awareness events promoting actions that
everyone can take to prevent suicide.
NOW, THEREFORE, BE IT PROCLAIMED, by this County Board of Kane County, Illinois, that it hereby recognizes the month of September 2023 as Suicide Prevention Awareness Month in Kane County and that it hereby congratulates Suicide Prevention Services of America on 25 years of service to the citizens
of Kane County.
_____________________________
Corinne M. Pierog MA, MBA
Kane County Board Chairman