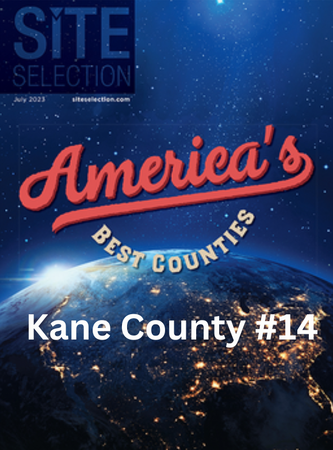 Kane County Named to Top 20 List of America's Best Counties
Kane County Connects Staff 7/6/2023 8:00AM
​
Kane County has been ranked as one of the top 20 counties in the nation in the July 2023 issue of Site Selection magazine.
Kane County came in #14 on the list, along with Cook (#2), DuPage (#9) and Will (#16) Counties. Illinois was the only state with four or more contiguous counties making the list.
This is Site Selection magazine's first ranking of best counties in the U.S. and was based on the total number of economic development projects in each county between January 2022 and March 2023.  Kane County had 52 qualifying projects during that time period.
"This recognition by Site Selection magazine emphasizes why Kane County is a prime destination for new businesses and investments.  This acknowledgment reinforces our status as a welcoming community that values its workforce, growth and geographic attributes," said Kane County Board Chair Corinne Pierog.
As the fifth largest county in Illinois, Kane County has a population of over 515,000 residents and boasts a landscape that combines urban, agriculture, rural and residential. 
You can read the entire article 'Heroes of the Heartland' by clicking here.
Earlier this year, Site Selection named the Chicago region the top metro in the U.S. for business growth, a ranking it's held for the last 10 years. 

| | | | | | | | | | |
| --- | --- | --- | --- | --- | --- | --- | --- | --- | --- |
| Companies | City | County | State Abbreviation | Sector | Category | types | | | |
| A. J. ANTUNES & CO. | Geneva | Kane | IL | Consumer Products | New | Headquarters | | |   |
| Alvil Trucking, Inc. | Elgin | Kane | IL | Transport & Logistics | New | Distribution Warehouse | |   | |
| Argents Air Express Ltd. | Elgin | Kane | IL | Transport & Logistics | New | Distribution Warehouse | | |   |
| Atlantic Corporation | Elgin | Kane | IL | Paper, Printing & Packaging  | New | Manufacturing | |   | |
| Axis Warehouse LLC | Elgin | Kane | IL | Transport & Logistics | New | Distribution Warehouse  | |   | |
| Axis Warehouse LLC | Elgin | Kane | IL | Transport & Logistics | Expansion- Facility | Distribution Warehouse  | | |   |
| Baxton Studio Outlet | Aurora | Kane | IL | Consumer Products | New | Distribution Warehouse | |   | |
| C & Y Global Inc. | Aurora | Kane | IL | Consumer Products | New | Distribution Warehouse | |   | |
| Core & Main LP | Saint Charles | Kane | IL | Machinery, Equip. & Const. | New | Distribution Warehouse | | |   |
| Cortina Tool & Molding Co. | Aurora | Kane | IL | Chemicals & Plastics | New | Manufacturing  | | | |
| Cyrusone Inc. | Aurora | Kane | IL | IT & Comm. | Expansion- Facility | Data Center  | | | |
| Dukers Appliance Co., USA Ltd. | Aurora | Kane | IL | Machinery, Equip. & Const. | Expansion- Facility | Distribution Warehouse | | |   |
| Edged Energy, LLC | Aurora | Kane | IL | IT & Comm. | New | Data Center | | | |
| Elgin Molded Plastics, Inc. | South Elgin | Kane | IL | Machinery, Equip. & Const. | New | Manufacturing | | | |
| Elgin Recycling, Inc. | West Dundee | Kane | IL | Consumer Products | New | Distribution Warehouse | |   | |
| Euromarket Designs, Inc. | Aurora | Kane | IL | Consumer Products | New | Distribution Warehouse  | |   | |
| Evo Pak Packaging, LLC | Elgin | Kane | IL | Paper, Printing & Packaging  | New | Office | |   | |
| Evterra Recycling, LLC | Elgin | Kane | IL | Waste Mgmt | New | Distribution Warehouse  | | |   |
| Fidelity Paper & Supply Corp. | Aurora | Kane | IL | Paper, Printing & Packaging  | New | Manufacturing  | |   | |
| Flender GmbH | Elgin | Kane | IL | Electronics | Expansion- Facility | Manufacturing |   | | |
| Flinn Scientific, Inc. | Batavia | Kane | IL | Transport & Logistics | New | Distribution Warehouse  | | | |
| Freight Union Incorporated | Hampshire | Kane | IL | Transport & Logistics | New | Distribution Warehouse  | | | |
| Gebrüder Weiss GmbH | Elgin | Kane | IL | Transport & Logistics | New | Distribution Warehouse  | | | |
| Goforward Logistics LLC | Aurora | Kane | IL | Transport & Logistics | New | Distribution Warehouse  | | | |
| Great Lakes Technologies, LLC | West Dundee | Kane | IL | Machinery, Equip. & Const. | New | Manufacturing  | | | |
| Greenseed Contract Packaging, Inc. | Batavia | Kane | IL | Paper, Printing & Packaging  | Expansion- Facility | Distribution Warehouse |   | | |
| Greenseed Contract Packaging, Inc. | Batavia | Kane | IL | Paper, Printing & Packaging  | Expansion- Facility | Headquarters,Manufacturing |   | | |
| Gripple Incorporated | Aurora | Kane | IL | IT & Comm. | Expansion- Facility | Manufacturing | |   | |
| Janaki Foods, Inc. | Elgin | Kane | IL | Food & Beverage | New | Manufacturing | | |   |
| Jbs USA Food Company | North Aurora | Kane | IL | Food & Beverage | New | Manufacturing  | |   | |
| MAI Fulfillment LLC | Elgin | Kane | IL | Transport & Logistics | New | Distribution Warehouse | |   | |
| Martinez Produce & Seafood, Inc. | Elgin | Kane | IL | Food & Beverage | New | Distribution Warehouse | |   | |
| Maybach International Group Inc. | Elgin | Kane | IL | Transport & Logistics | New | Distribution Warehouse  | | | |
| Micro Plastics, Inc. | Saint Charles | Kane | IL | Chemicals & Plastics | New | Manufacturing | |   | |
| Middleby Packaging Solutions, LLC | South Elgin | Kane | IL | Machinery, Equip. & Const. | New | Manufacturing | |   | |
| Midwest Warehouse and Distribution System, LLC | North Aurora | Kane | IL | Transport & Logistics | New | Distribution Warehouse  | |   | |
| Nobelus LLC | Elgin | Kane | IL | Chemicals & Plastics | New | Distribution Warehouse |   | |   |
| Premier Design & Build Group, LLC | Elgin | Kane | IL | Paper, Printing & Packaging  | New | Distribution Warehouse,Manufacturing | |   | |
| Retail First Inc | Elgin | Kane | IL | Consumer Products | New | Manufacturing | |   | |
| Reyes Coca-Cola Bottling, L.L.C. | West Dundee | Kane | IL | Food & Beverage | New | Distribution Warehouse | | |   |
| Ryder Integrated Logistics, Inc. | North Aurora | Kane | IL | Transport & Logistics | New | Distribution Warehouse |   | |   |
| Sternmaid America LLC | Aurora | Kane | IL | Food & Beverage | Expansion- Facility | Distribution Warehouse |   |    | |
| Tailored Brands, Inc. | Aurora | Kane | IL | Textiles | New | Distribution Warehouse |   | |   |
| Teinnovations, LLC | Aurora | Kane | IL | Machinery, Equip. & Const. | New | Manufacturing,Office | |   | |
| Tek Pak, Inc. | Saint Charles | Kane | IL | Machinery, Equip. & Const. | Expansion- Facility | Distribution Warehouse,Manufacturing | | |   |
| TERRA RECYCLING SP Z O O | Elgin | Kane | IL | Consumer Products | New | Distribution Warehouse,Manufacturing | |   | |
| Thales Defense & Security, Inc. | Aurora | Kane | IL | IT & Comm. | New | Office | | |   |
| United Facilities, Inc. | Montgomery | Kane | IL | Transport & Logistics | New | Distribution Warehouse  | | |   |
| Wise Plastics Technologies, Inc. | Saint Charles | Kane | IL | Chemicals & Plastics | New | Headquarters,Manufacturing  | | |   |
| Xeikon America, Inc. | Elgin | Kane | IL | Machinery, Equip. & Const. | New | Headquarters | | |   |
| York Container Company | Elgin | Kane | IL | Paper, Printing & Packaging  | New | Manufacturing  | |   | |
| Yunhong CTI Ltd. | Elgin | Kane | IL | Chemicals & Plastics | New | Distribution Warehouse  | |   | |
| | | | | | | | | | ​ |
​