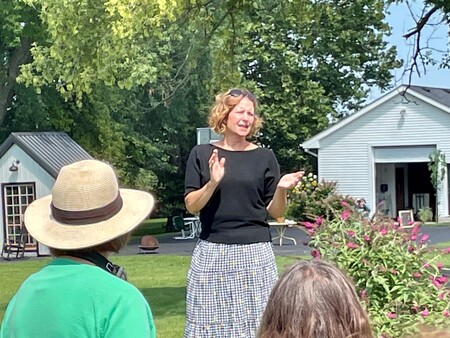 Conservation, Climate and Future Focus of Kane County Agriculture Bus Tour
Kane County Connects Staff 8/18/2023 12:00PM
​
Several dozen people took a sold-out trip to visit a variety of farms around Kane County rooted in sustainability, community wellness and climate friendly practices with a focus on farmland protection.

The Kane County Farms Tour August 15 kicked off at the Kane County Farm Bureau in St. Charles, with a presentation on the design and installation of the Illinois Prairie Pollinator Rain Garden located at the Bureau.
Attendees, including conservation and farm professionals from Kane County, Will County and DuPage County, were bused to a variety of farms where Q&A with farmers took place on subjects including starting your own farm, how drought and other weather conditions have affected farm operations and how cooperatives help serve larger family farms.
Climate Specialist Duane Friend from the University of Illinois Extension staff was the featured lunch speaker and spoke about climate trends  – a major topic concerning  farmers. 
"Our lens for this day is climate as our department is working on climate smart farms and what is needed to support this effort," said Janice Hill, Executive Planner with the Kane County Development and Community Services Department.
The following Kane County farms and organizations participated in the Kane County Farms Tour:
Kane County Farm Bureau, St. Charles - a not-for-profit membership association serving members, local agricultural producers and Kane County communities since 1912.
Weathered Ways Farm, Geneva – is a USDA Certified Organic Agricultural Incubator hosting farmers markets and small social gatherings.
CHS Elburn, Maple Park – is one of many company-owned, locally-governed service centers that are part of CHS Inc., the nation's leading farmer-owned cooperative.
Birdflower Farm, Virgil – is a family farm featuring cut flower fields, renovated 1890s farmhouse, an orchard, berry field, a 1/2 acre of prairie and more
Heritage Prairie Farm, Elburn – is a four-seasons farm providing organic produce and microgreens to restaurants and the community since 2006 and also has facilities for events.
Rising Lights Project, Elburn – is a registered 501(3)(c) dedicated to creating environments for individuals impacted by disability to learn, laugh, thrive, and engage with the Fox Valley Community.
Garfield Farm and Museum, LaFox – is a 366-acre 19th century farmstead that includes farm fields permanently protected through an Agricultural Conservation Easement.
The Kane County Farms Tour, was organized in parternship with the Chicago Wilderness Agriculture Committee in conjunction with the Kane County Forest Preserve District and the Kane-DuPage Soil and Water Conservation District. 
Kane County Fast Farm Facts:
Kane County has more than 6,000 acres of permanently protected farms held in Agriculture Conservation Easements and more than 1,000 acres in application review.
Based on surveys and mini-grant responses, the top three food growers in Kane County are located in Maple Park (25%), Blackberry Township (15%) and Hampshire (11%).
Kane County farm operations by activity include: 59% conventional planting; 37% livestock; 30% hoop house; 26% greenhouse; 22% apiary; 15% Other; 7% urban farm and 4% hydroponic/aquaponic.