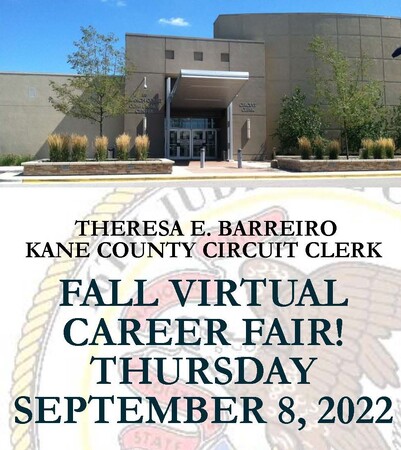 Kane County Circuit Clerk Fall Virtual Career Fair
Kane County Connects Staff 8/29/2022 11:00AM
The Kane County Circuit Clerk is hosting a virtual career fair. The event will take place on Thursday September 8, 2022.
"If you would like a career with the Circuit Clerk's office please join us! We are offering this type of job fair for those that have busy lives and would not otherwise be able to attend," said Kane County Circuit Clerk Theresa Barreiro. "This is a good opportunity to take advantage of and learn the role of a deputy clerk at the Circuit Clerk's office."
There are a variety of career opportunities at the Circuit Clerk's office that offer medical, dental and vision benefits, along with paid holidays and vacation and IMRF (Illinois Municipal Retirement Fund) pension benefits. Positions are daytime hours, Monday through Friday. The deputy clerks also have a labor representation through AFSCME (American Federation of State, County and Municipal Employees).

Learn more about the responsibilities of employees of the Kane County Circuit Clerk office and the important role they play in the judicial system.
Sessions are 45 minutes long and are offered at 1:30 p.m., 2:30 p.m., 3:30 p.m, 4:30 p.m., 5:30 p.m. and 6:30 p.m. Use the QR code below to
sign-up for a session.