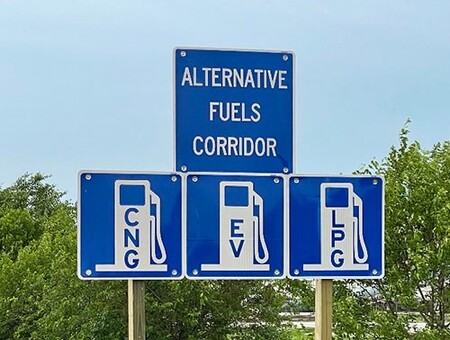 Kane County Board Supports Designation of I-88 as an Alternative Fuel Corridor
by Kane County Public Information Office Intern Gabe Kertesz 6/19/2023 6:00AM
​
The Kane County Board has voted to support a measure to make Interstate 88 (I-88) an Alternative Fuel Corridor.  The County hopes the designation will aid with sustainability initiatives as well as promote economic development along I-88.
Under the Alternative Fuel Corridors program, the Federal Highway Administration designates major roadways as Alternative Fuel Corridors and provides additional funding to boost sustainable fuel infrastructure along these roadways.  This can include funding for electric vehicle chargers or, hydrogen, propane, and natural gas fueling stations.
Currently there are only two direct-current fast charging stations along I-88 in Kane County, both of which feature a single charger. Although there is also a Tesla charging station, motorists driving an EV from another brand have limited options. 
It's the goal of the Federal Highway Administration to have at least one high quality electric vehicle charger every 50 miles along the Alternative Fuel Corridors, which means I-88 would require a new fast-charging station within or in close proximity to?  Kane County.  Even if a future charging station is placed in a nearby community rather than Kane County itself, its construction will make it easier for the people of Kane to own electric vehicles. In addition, it, will make it much easier for EV owners to drive through Kane County, contributing to its economy as they stop to eat and shop.
While the nomination and designation processes are not yet complete on I-88, the County is encouraged by the prospects for more resources for electric vehicles along this stretch of interstate and potentially more economic development.  As County Board members noted in voting to support the Alternative Fuel Corridor, electric vehicles often take 30 or more minutes to charge fully, leaving drivers and passengers plenty of time to visit nearby shops and restaurants
​According to the Illinois Department of Transportation, 145,000 miles across the state have been designated for promoting alternative fuels, including along Interstates 39, 55, 70, 74, 80, 90 and 94. The signs are posted or will be installed at these locations, alerting drivers that they are traveling in areas with opportunities to refuel.