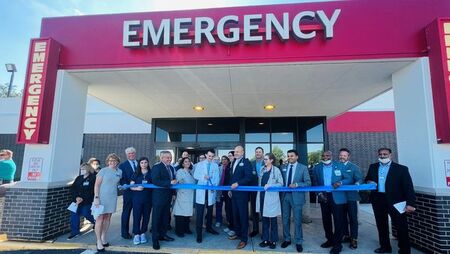 Mercy Hospital in Aurora Adds State-of-the-Art Emergency Department
Kane County Connects Staff 8/18/2022 8:00AM
Ascension Mercy Medical Center in Aurora recently cut the ribbon on the first phase of its new state-of-the-art emergency department.   According to the City of Aurora, the 20,000 sq. ft renovation will ultimately include 27 state-of-the-art rooms running 24/7.
Renovations include rooms and hallways equipped with the latest in technology, advanced lighting, wider hallways, and larger rooms that contain the latest in bedside monitor and documentation technology, including digital whiteboards and an integrated TV system to speak with offsite medical professionals and family members who cannot physically be present.
City officials say the first phase also includes a game changer in the industry: A 4,300 Crisis Stabilization Unit, increasing capacity for mental health services and the number of behavioral health beds from its current two to eight, making it the first hospital in Illinois to offer a designated area for adults experiencing a critical mental health emergency.
Source/ City of Aurora Facebook