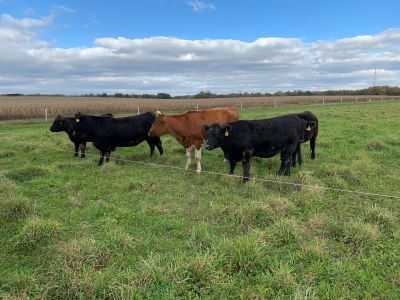 Kane County Welcomes Four New Members to the Farmland Protection Commission
Kane County Connects Staff 1/18/2023 4:00PM
The Farmland Protection Commission is charged with advancing the protection of agricultural land within Kane County through conservation easements and purchase of development rights from participating farms. The Kane County Board sets aside Riverboat funds that are matched with federal funds for purchases of easements. The Farmland Protection Commission meets periodically to prioritize farms to participate. Four new members were recently appointed to the eight member commission.
They include:
• Will Kuipers – Kuiper's Farm in Maple Park
• Christina Foster – Whildin Family Farm in Sugar Grove
• Holly Hudson – Aquatic Biologist and staff member at Chicago Metropolitan Agency for Planning
• Marc Bernard – Rustic Road Farm in Elburn
Returning members include:
• Joe White -- Kane County Farm Bureau

• Mike Kenyon – Chairman of the Kane County Agriculture Committee
• Mark Schramer – Farm Direct Black Angus in Maple Park

• Beth Gehrke – Gerhke Farm in Elgin
Each commission member was selected based on their background and experience in agriculture, finance, conservation or planning.

Since its inception in 2001, Kane County and the federal government have invested over $32.6 million dollars to permanently protect farmland in agricultural conservation easements. Over 6,000 acres have been permanently protected through this voluntary program since 2001.
Kane County was Illinois' first county to:
• Protect farms by ordinance from nuisance lawsuits, 1991
• Develop a stormwater ordinance to protect farmland, 2000

• Establish a Farmland Protection Program, 2001
• Assist farmers in maintaining productive soils with a farmland drainage assistance program, 2003
For further information about the program contact Janice Hill, Farmland Protection Manager, at hilljanice@co.kane.il.us