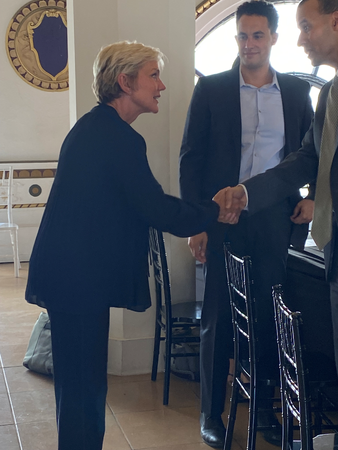 U.S. Secretary of Energy Visits Kane County
Kane County Connects Staff 7/26/2022 6:00PM
U.S. Secretary of Energy Jennifer M. Granholm took part in a roundtable discussion in downtown Aurora Monday July 25, 2022.
Secretary Granholm listened to industry leaders and workforce and policy experts who highlighted the economic growth and job creation linked to an increased interest in solar, wind, hydrogen and others sources of sustainable, domestic energy production. One area the group focused on was the adoption of new technologies in transportation and manufacturing.
Kane County B
oard Chair Corinne Pierog (pictured right) was among the invited guests.
"In the near future the hydrogen economy will become a vital component in reaching net-zero emissions," Chair Pierog said. "Hydrogen energy has the ability to partner with our existing energy systems which currently supply the growing needs of industry and transportation. Kane County has been on the forefront of supporting clean air and sustainable energy, the investigation of this powerful game changer is a natural fit for Kane County."​

Kane County has made strides to reduce its carbon footprint. Construction is currently underway to install solar panels at the Kane County Judicial Center to lower electricity costs. The county also uses a fleet of electric cars to lessen greenhouse gas emissions.
The roundtable was hosted by Congressman Bill Foster. Among the panelists was Geneva Mayor Kevin Burns who was representing the Metropolitan Mayors Caucus and Dr. BJ Johnson, the CEO of ClearFlame Engine Technologies based in Geneva.