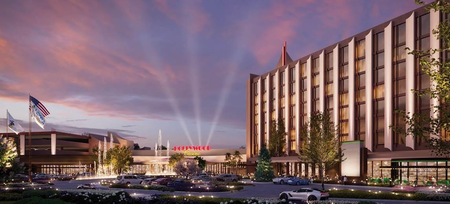 Aurora Casino Approved for Relocation by Gaming Board
Kane County Connects Staff 4/28/2023 11:00AM
​
The Illinois Gaming Board (IGB) has signed off on plans for a new casino in Aurora.  Penn Entertainment announced last year it wanted to move the Hollywood Casino in downtown Aurora on the Fox River to property near I-88 and Farnsworth Ave, across from the Chicago Premium outlet mall.  The plan calls for a 200-room hotel, event center and restaurants.
IGB members also approved a relocation plan for a casino in Joliet.
"Today's approval of the relocation proposals for the Hollywood Aurora and Hollywood Joliet Casinos are a significant step in the regulatory process to bring new gaming venues to these host communities," said IGB Administrator Marcus D. Fruchter. "The IGB will work with Penn Entertainment as it moves through the regulatory process to ensure these relocated casino venues are constructed, opened and operated in an efficient, ethical and compliant manner."
Construction of the new casino is expected to begin in late 2023.

Illinois is home to 12 casinos, more than 8,300 licensed video gaming establishments and nine sportsbooks. Casino gambling, video gaming and sports wagering generated more than $1.4 billion in tax revenue to the state and local communities in calendar year 2022.

The IGB serves as the state regulatory and law enforcement agency, overseeing all licensed casino gambling, video gaming and sports wagering to ensure the integrity and safety of gambling while generating revenue for the state and gaming host communities​.

Source/ Illinois Gaming Board Media Release