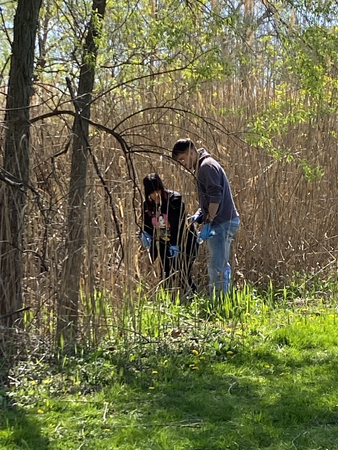 East Aurora HS Tomcat Trash Toss Out
Kane County Connects Staff 5/8/2023 8:00AM
When the level of trash in and along property south of East Aurora High School got so bad, neighbors complained and kept complaining.   The area is a man-made wetland comprised of eight-foot-tall grass that now doubles as a hide out for local teens on an unauthorized break from the school day. 
"On property between and area owned by East Aurora High School, the City of Aurora and a sliver of Fox Valley Park District property, the kids have established what I like to call a compound.   You can't see it, you have to discovery it, but the trash leads you right to it," said Kane County Board Member Michelle Gumz who lives in the area and is an East Aurora grad.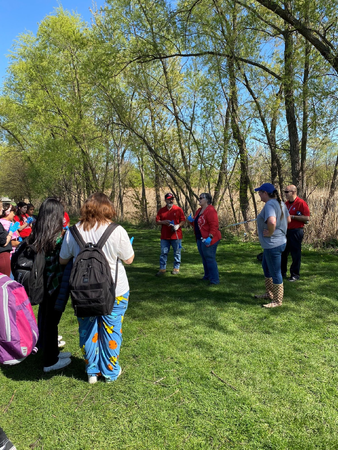 Gumz recently held a meeting with the school and neighbors and came up with a plan of action to clean up the trash, and try to address kids skipping out of school.
This past week, Gumz, fellow Board Member Anita Lewis,East Aurora High School Principal Jennifer Mitchell and school board member Dan Barrerio gathered at the site with gloves and garbage bags and went to work.
"The school put out a notice to all of the students at East that whether they had community service hours to complete or just wanted to help, they were welcome to help," said Lewis. 
Shortly after school let out, three dozen students joined the 'Tomcat Trash Toss Out' effort.
​At the end of the day, the group had collected at least a dozen 55 gallon bags of trash.

Along with beautifying the area by removing trash, the effort set a good example for the students on how a community can work to fix a problem.  

​As for the truant students, Gumz says they will continue to confront them when they see them and work with the school and police to get them back in the classroom.