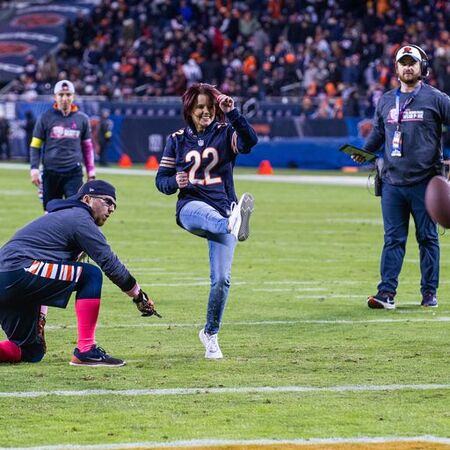 Huntley Breast Cancer Patient Honored at Real Bears Fans Wear Pink Game
Kane County Connects Staff/ Media Release Advocate Sherman Health Care 10/14/2022 12:00PM
Over a dozen Advocate Health Care breast cancer patients, their family members and care teams from across Illinois were honored Thursday, Oct. 13, at the Real Bears Fans Wear Pink game at Soldier Field as the Chicago Bears took on the Washington Commanders. Soldier Field turned pink to support breast cancer survivors and fighters.
Among those honored was Danielle Jackway, a breast cancer survivor patient at Advocate Sherman Hospital in Elgin. Prior to kick-off, Jackway helped unfurl a ceremonial pink ribbon, and during halftime, she and a member of her care team participated in an on-field Punt, Pass, and Kick competition.
To close out the halftime festivities, Jackway rang the bell to celebrate being finished with treatment. A wife of 25 years and a mother of a teenage son and daughter, Jackway was always diligent about getting screenings.
Her own mother had breast cancer, so mammograms were always a priority. When her screening late last year revealed she had breast cancer, she was referred to Advocate Health Care and Dr. Barry Rosen, whose prompt and compassionate care she says completely turned around her journey with breast cancer for the better.
"Sherman is such a great place to do radiation at," said Jackway, who received the treatment for nearly five weeks with Dr. John Smith and was recently declared cancer free at her three-month mammogram. "Every staff member that took care of me was so kind and gentle with me; they worked around my work schedule. Dr. Smith was a great doctor, I never had an issue."
Advocate Health Care's Breast Surgeon, Dr. Heidi Memmel, participated in the coin toss and handed it over to Staley the Bear to kick off the game. The game is a tribute to honor breast cancer survivors and fighters and raise awareness for the disease that develops in one in eight women during her lifetime.
"Thank you to the Bears and Advocate Health Care for bringing breast cancer awareness to our fans this month. Breast cancer is often preventable, and knowing the risk factors, like family history and lifestyle factors is important, said Dr. Memmel. "It's also important to get regular screening mammograms, as this is the one exam that we know can save lives from detecting breast cancer early."

Real Bears Fans Wear Pink T-shirts are also available for all fans to purchase for $30 each. Proceeds benefit Bears Care and help fund local programs which provide care, assistance, and support services to breast cancer patients and their families, including helping facilitate timely access to critical breast health services for low-income women.

This marks the 15th year of the Real Bears Fans Wear Pink shirt campaign, which to date, has raised more than $1.6 million to support breast cancer patients and their families.
One in 8 women will get breast cancer at some point in their lives. That's why it's important to schedule a mammogram, which can spot cancer up to three years before a lump or other symptoms of breast cancer could be detected. At Advocate Aurora Health, you can get mammogram results the same day, providing peace of mind or getting you on the path to life-saving treatment.
Source: Advocate Sherman Hospital Elgin Media Release