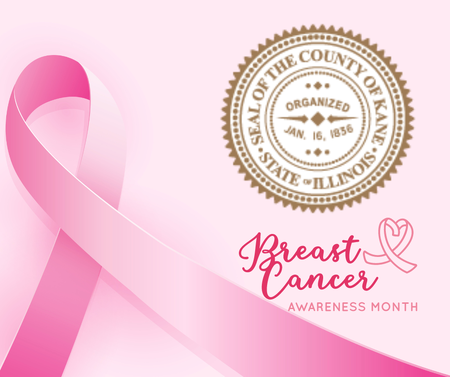 October is Breast Cancer Awareness Month
Kane County Connects Staff 10/5/2022 11:00AM
October is National Breast Cancer Awareness Month, an annual campaign to raise awareness about the impact of breast cancer.
Breast cancer is a disease in which malignant (cancer) cells form in the tissues of the breast.
According to the National Breast Cancer Foundation, this year an estimated 287,500 new cases of invasive breast cancer will be diagnosed in women in the U.S. as well as 51,400 new cases of non-invasive breast cancer, with an estimated 43,550 women dying from the disease in the U.S. this year.
However, there are over 3.8 million breast cancer survivors in the United States.

Breast cancer is the most common cancer in American women, except for skin cancers. Men can also develop breast cancer. Less than one percent of all breast cancer cases develop in men, and only one in a thousand men will ever be diagnosed with breast cancer.
The Kane County Health Department has listed Federally Qualified Health Centers (FQHC) serving Kane County for individuals who are uninsured or underinsured. 
They include:
VNA Health Care/ Mammography 400 N. Highland Ave., Aurora www.vnahealth.com
Aunt Martha's Health and Wellness 2124 Ogden Avenue Unit 201, Aurora 3003 Wakefield Dr., Carpentersville www.auntmarthas.org
Greater Family Health 373 Summit St., Elgin 450 Dundee Ave., Elgin 1435 N Randall Rd., STE 408, Elgin (Located in the Medical Office Building of Advocate Sherman Hospital campus.)
GreaterFamilyHealth.org Tri City Health Partnership Medical and Dental Clinic 318 Walnut Street, St. Charles tchpfreeclinic.org
The following is a list of medical centers offering mammography:
Northwestern Medicine Delnor Hospital Breast Health Center/Geneva
Advocate Sherman Mammography/Elgin
Advocate Medical Group Mammography/Aurora
Acension Imaging Aurora