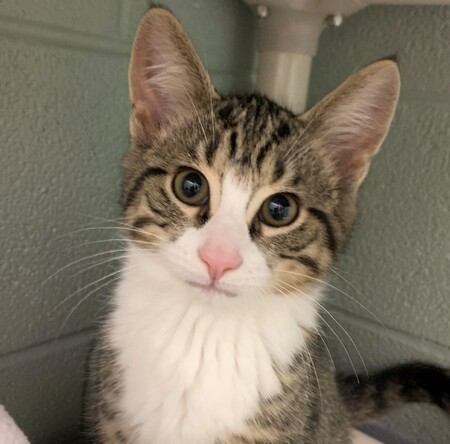 Pet of the Week: Smoothie
Tecla Metzel of Kane County Animal Control 8/5/2022 1:00PM
It's a mystery, really.

How one female feline can produce seven or eight little fur-balls that wind up as pink-nosed, white, black, orange or gray-faced little kittens that tear at your heart and cloud your mind with their cuteness.

Science may speculate the mysteries of how all the kittens arrived with such diverse variations, but as every cat lover knows, little baby kittens that look nothing like each other is a form of…Magic! (This said tongue-in-cheek, of course!)

Kane County Animal Control (KCAC) has had quite a spring of magic, producing not just one mama cat giving birth, but two mama cats giving birth. Two litters! And now some of these cute, pink nosed little rascals are ready to go to good homes that will take care of them, feed them and allow them to grow from kittens to adult cats.
Smoothie is one of 5 siblings that came to KCAC as strays. He and his littermates and momma were found in Sugar Grove. A 3-month-old neutered brown Domestic Shorthair,  Smoothie can be a little shy at first but has made huge strides in growing his confidence level. He needs a family that will not only be willing to help him come out of his shell, but let him know that he's finally in a safe environment. He loves playing with his siblings, jumping on top of them and rolling around with them in the cat room. When he sleeps, he sleeps hard and when he plays, he plays hard.
After a day of playing and eating, he's ready to settle down with kennel staff or volunteers for a nice petting session and a nap. A little bit of rest and he's re-energized to begin again. He's a kitten, after all and he's looking for the purr-fect family! And that's no mystery!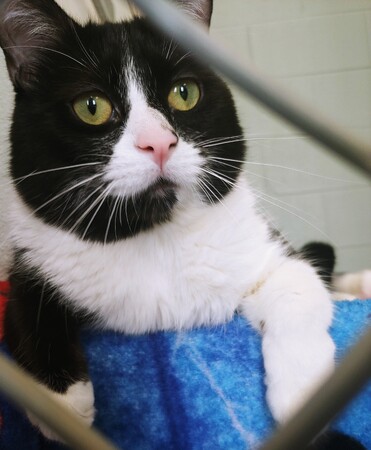 KCAC Update:  Congratulations to Muggins, the black and white cat that purrs with his mouth completely open. With one black leg and one white leg, Muggins found his perfect family. Always willing to help out around the house, and willing to follow his owners anywhere they go, we're sure Muggins is getting his new home in tip-top shape! We're so proud of you, Muggins!
How to Adopt:  For more information regarding Kane County Animal Control's adoptable animals and for an adoption application, please go to
www.kanecountypets.org​
.
All Kane County Animal Control adoptable cats and dogs are spayed/neutered, microchipped, up-to-date on all vaccines including rabies. They are tested for feline leukemia/FIV and heartworm.

The adoption fee for dogs is $200 and $100 for cats. Adoption of two dogs is $300 and $150 for two cats.
"It is a very inconvenient habit of kittens (Alice had once made the remark) that, whatever you say to them they always purr." – Lewis Carroll (Charles Lutwidge Dodgson), English novelist & poet
Source: KCAC's Adorable, Adoptable Pet of the Week is written by Tecla Metzel of Kane County Animal Control.